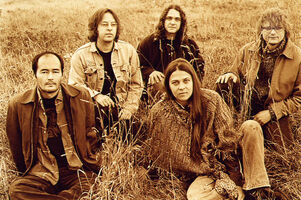 Bardo Pond are an American psychedelic rock band formed in 1991, and who are currently signed to London-based label Fire Records. The current members are Michael Gibbons (guitar), John Gibbons (guitar), Isobel Sollenberger (flute and vocals), Clint Takeda (bass guitar) and Jason Kourkounis (drums). Bardo Pond's music is often classified as space rock, acid rock, post-rock, shoegazing, noise or psychedelic rock. Some Bardo Pond album titles have been derived from the names of esoteric psychedelic substances. Their sound has been likened to Pink Floyd, Spacemen 3 and My Bloody Valentine amongst others.
Links To Peel
Peel first started playing Bardo Pond in 1995 through the Drunken Fish label and the band performed two sessions for his shows. Stuart Braithwaite, guitarist and occasional vocalist of Mogwai, another of Peel's favourites, mentioned first hearing the Bardo Pond in the mid 90's and was drawn to their music due to their heavy and psychedelic sounds:
"I first heard Bardo Pond on the John Peel show in the mid-90s. I was really drawn to their music as it was so heavy and psychedelic. On one of our first trips to America we played a couple of shows with them in Philly and New York. It was with their original drummer Joe [Culver, actually the band's second drummer, after Bob Sentz quit to concentrate on painting]. They were astounding live, and we immediately got on with them. We've been friends with them since, and I've remained a huge fan of their music". [1]
Sessions
1. Recorded: 2001-05-20. Broadcast: 12 June 2001
Slip Away / Lancaster Gate / Amen
2. Recorded: 2004-03-25. Broadcast: 27 April 2004
Destroying Angel / The Word / Isle
Live
Recorded live from All Tomorrow's Parties, Camber Sands: 2000-04-11. Broadcast: 11 April 2000
This Time (So Fucked)
Lb
Other Shows Played
11 August 1995: 'Adhesive (CD-Bufo Alvarius, Amen 29:15)' (Ché Trading)
1998
External Links
Community content is available under
CC-BY-SA
unless otherwise noted.