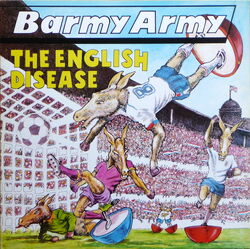 Barmy Army were a football-centered studio project of record producer and West Ham United fan Adrian Sherwood, aided by a shifting cast of musicians familiar to followers of his work with Tackhead and the On-U Sound label.[2]
Debut release 'Sharp As A Needle' set the Barny Army template, with crunching rhythms providing the backdrop for samples of terrace songs and match commentary. Originally worked on for a proposed Mark Stewart (& The Maffia) b-side, the track emerged in the wake of a football-themed Tackhead single, 'The Game'.[3]
The only Barmy Army album, "The English Disease", came out in late 1989, the year of the Hillsborough disaster. BBC Radio Lancashire DJ Steve Barker described the LP in the following terms:
"A passionately political sonic documentary where supporters from across the football spectrum joined together in a joyful celebration of the game whilst levelling a number of incisive jibes against the game's establishment, both at club and organisational levels."[4]
Little more was subsequently heard from Barmy Army, although the name resurfaced briefly in the run-up to the Euro 96 tournament for an On-U Sound collaboration with Primal Scream and Trainspotting writer Irvine Welsh, 'The Big Man & The Scream Team Meet The Barmy Army Uptown'.[5]
Links to Peel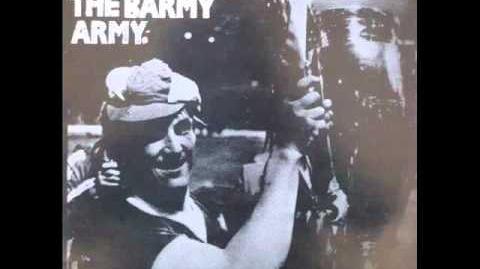 As a confirmed admirer of Adrian Sherwood and devoted Liverpool fan, Peel was predictably unable to resist Barmy Army's 'Sharp As A Needle,' which not only sampled Anfield anthem You'll Never Walk Alone but also radio commentary of a goal by his all-time favourite player, Kenny Dalglish, who was pictured on the sleeve of the single.
In a 1988 Observer article, Peel declared it to be "the only football record of merit yet released."[1]
Unsurprisingly, the DJ later selected the track as one of his four choices for the 1987 Peelenium. Back on 29 December 1987, when it placed #17 in 1987 Festive Fifty, he suggested he would have made it number one for the year.[2]
In The Ingerland Factor Playlist, published in 1999, Peel wrote:
"It doesn't really get much better than this classic Barmy Army track. Incongruously, there is a West Ham reference – Sherwood is a Hammers fan – but the music relates otherwise to Kenny Dalglish, with a sideways nod to Ian Rush… Years after its release, I still can't hear it without a lump in my throat."
While Peel did play other Barmy Army tracks on his shows, 'Sharp As A Needle' remained an enduring favourite. It also came to feature in his live sets, including at the 2001 Sonar festival in Barcelona.[3]
Festive Fifty Entries
Peelenium
Other Shows Played
1986
1987
1988
1989
1990
07 June 1990: Sharp As A Needle (album - The English Disease) On-U Sound
Best Of Peel Vol 6: 'Sharp As A Needle (LP-The English Disease)' (On-U Sound)
1991
1999
2000
2001
See Also
External Links
References
↑ John Peel: 'Hubble, bubble dub on the double' Observer, 1988-11-20, accessed via Guardian and Observer Digital Archive.
↑ On the 19 December 2000 special quiz show to mark 25 years of the Festive Fifty, he again stated that the record should have been higher in the 1987 listeners' chart.
↑ See 21 June 2001 for set list. Liverpool had beaten Barcelona in the semi-finals of the UEFA Cup just two months before[1], so it may not have been the best time or place to play 'Sharp As A Needle' and other LFC-related material.
Community content is available under
CC-BY-SA
unless otherwise noted.