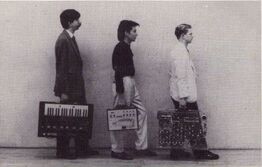 Basking Sharks were a three-piece band from Lancaster UK, formed in 1980 and active until around 1987. They produced purely electronic music using mostly homemade or customised second-hand synthesisers and drum machines. The group often played live, using primitive video effects to augment their on-stage performances, sometimes to bizarre effect. Basking Sharks issued one EP, one album and one single all on independent labels.
Links to Peel
Peel met the band during a John Peel Roadshow in Lancaster on 1983-03-04[1] and invited them to do a session for his show. 
Session
1. Recorded 1983-04-25. First broadcast 03 May 1983. Repeated 18 May 1983. No known commercial release.
View From The Hill / New Industry / Theatre War / Diamond Age
Other Shows Played
External links
Community content is available under
CC-BY-SA
unless otherwise noted.