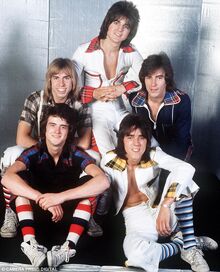 Bay City Rollers were a pop group from Edinburgh, Scotland. They had ten Top 10 hits in the UK between 1971 and 1976, including two no.1's in 1975. Their first two albums also made the no.1 spot in the UK 1974 and 1975. Such was their popularity the term "Rollermania" was coined, just as "Beatlemania" had been invented ten years earlier. The group also had their own weekly TV show produced by Granada TV. Entitled 'Shang-a-Lang' after one of their biggest hits, the show ran for one 20-week series in 1975. The group have continued to disband and reform since their commercial demise in the late seventies.
Founding member Alan Longmuir died in 2018, aged 70.
Links to Peel
The Rollers were very much a part of the Radio 1 landscape during the height of their popularity, although their music and style could not have been further from Peel's tastes at that or at any other time. During The Radio One Story documentary (repeated in an audio clip featured in the "Teenage Dreams" documentary first broadcast 16 December 2004) Peel recalls an episode during a Radio 1 'Fun Day' at Mallory Park when the group were helicoptered into the open air event attended by hundreds of hysterical fans, while the only 'security' was made up of members of the BBC sub-aqua club. He refers to the group's and the fans' distinctive attire as "Bay City Roller chic, if such a thing is not a contradiction in terms". [1]
A video clip of the group featured in the 20th anniversary addition of Top of the Pops, presented by Peel and Kid Jensen on 05 January 1984. Peel merely comments that the Rollers were "one of the biggest bands of the 1970s". He never seems to have played any of their records although he has played some Rollers cover versions.
Records played
Covered
(The list below was compiled only from the Cover Versions page of this site. Please add more information if known.)
Artist | Track | First Known Play
See Also
Notes
External links
Community content is available under
CC-BY-SA
unless otherwise noted.