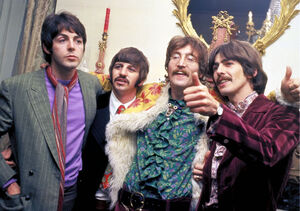 The Beatles
are a successful and influential 1960s British guitar band formed in 1960 at Liverpool, UK.  The lineup comprised
John Lennon
(vocals, guitar, keyboards),
Paul McCartney
(bass, guitar, vocals),
George Harrison
(guitar, vocals), and
Ringo Starr
(drums, vocals). Following an initial period as a straightforward Mersey-beat group, later recordings saw them experiment with psychedelia, incorporating innovative production techniques involving tape loops and other effects. Although the group split in 1970, they have continued to influence many artists and bands.
Links to Peel
John Lennon (1940-1980), Paul McCartney (b.1942), Ringo Starr (b.1940) and George Harrison (1943-2001) were all born and brought up in Liverpool and were of the same generation as Peel. Yet their paths did not cross; Peel was born in 1939, was sent to boarding schools, was one of the last intake of National Servicemen, and moved to the USA in 1960. The Beatles were beginning their career at this time and remained little-known beyond Merseyside until their commercial breakthrough in 1963.
Peel's career was transformed by "Beatlemania" in the US, as by emphasising his Liverpool origins he was able to find work in radio as a "Beatles expert" on KLIF in Dallas. He later attended a Beatles Press Conference while working for KOMA in Oklahoma City.
On his return to Britain in 1967, the Beatles were at the height of their creativity, having just released the single "Penny Lane/Strawberry Fields Forever". They were revered by many, including Peel's Radio London colleague Kenny Everett, and were regarded as far ahead of their pop contemporaries. The release of Sgt. Pepper's Lonely Hearts Club Band in June 1967 intensified this adulation and drew even more critical acclaim. The LP was previewed on Radio London (reportedly its first play reduced Peel to tears) and became an essential part of the Perfumed Garden playlist; its atmosphere, a mixture of psychedelic strangeness and images drawn from everyday British life, was reflected in Peel's presentation style, alternately dreamy and down-to-earth. As a Liverpudlian, he sought to distance himself from the fashionable cliques of "Swinging London", hoping that his programme, its ethos expressed in the Beatles' song "All You Need Is Love", would appeal to a wider audience.
The Beatles were also involved with the London underground scene, whose newspaper International Times was supported financially by Paul McCartney, at the time a friend of IT editor Barry Miles. In a column Peel wrote for the paper in January 1968 there is a mysterious "Memo to J.L.",[1] which may hint at the friendship Peel developed with John Lennon (which he only revealed years after Lennon's death). Later, Lennon was a guest on Night Ride on 11 December 1968 and provided financial backing for a relaunch of IT in 1974, although by then Peel was no longer writing for the paper.
Throughout the late 1960s Peel retained his high opinion of the Beatles, playing their new records as they appeared, and after the band split up in 1970 he devoted most of a Disc and Music Echo column to a review of their film Let It Be, "for me, just about the saddest film I've ever seen"[2], saying "I love them like I love my brothers and my parents". In the early 1970s, their solo records featured in his playlists, but gradually his attitude towards the band began to change, perhaps because of their position in what was becoming an established canon of rock history - which, after the mid-1970s, began to be challenged. Much of their solo work was disappointing after the heights they had reached during their heyday as a band. In addition, as Peel got older he returned more and more to the key listening experiences of his youth, which had occurred in the 1950s when he discovered skiffle and early rock'roll. Despite the fact that he lived through the Beatle era, in his final years he saw Lonnie Donegan as a more important influence on his musical taste.
Festive Fifty Entries
'Strawberry Fields Forever (LP-Magical Mystery Tour)' (Parlophone) #17
'Hey Jude (LP-Hey Jude)' (Apple) #14
'A Day In The Life (LP-Sgt. Pepper's Lonely Hearts Club Band)' (Parlophone) #9
2000 Festive Fifty (All-Time)
'I Am The Walrus (LP-Magical Mystery Tour)' (Parlophone) #45
'I Saw Her Standing There (LP-Please Please Me)' (Parlophone) (Peelenium 1963)
'And Your Bird Can Sing (LP-Revolver)' (Parlophone) (Peelenium 1966)
'I Am The Walrus (LP-Magical Mystery Tour)' (Parlophone) (Peelenium 1967)
Come Together / Octopus's Garden / Something (Melodica) 1969 (USSR release)
Sessions
None, although Peel claimed his show had tried to book them but were turned down. (See 03 July 1992.)
Other Shows Played
(The list below is compiled only from the database of this site and Lorcan's Tracklistings Archive and is far from complete. Please add further information if known.)
1967
14 August 1967
(final Perfumed Garden)
Sgt. Pepper's Lonely Hearts Club Band / With A Little Help From My Friends (LP - Sgt. Pepper's Lonely Hearts Club Band) Parlophone
And Your Bird Can Sing (LP - Revolver) Parlophone (JP: "Sparrows, no doubt. And I think I'll just run on into the next track.")
For No One (LP - Revolver) Parlophone
Getting Better (LP - Sgt. Pepper's Lonely Hearts Club Band) Parlophone (JP: "It certainly is. Even the hang-ups are straightening out. You'll find out.")
She's Leaving Home (LP - Sgt Pepper's Lonely Hearts Club Band) Parlophone
Lucy In The Sky With Diamonds (LP - Sgt. Pepper's Lonely Hearts Club Band) Parlophone (JP: "Oops, all kinds of feedbacky things there.")
(JP: "Here was the first indication we ever had from the Beatles that they were becoming more aware of what was going on around.")
The Word (LP - Rubber Soul) Parlophone (JP: "Those are the Beatles and "the word is love" – which is exactly right. That sums it all up really. I keep saying that, but it really does.")
19 November 1967: Hello, Goodbye (7") Parlophone
19 November 1967: I Am The Walrus (7" - Hello, Goodbye) Parlophone
26 November 1967: Five tracks from the Magical Mystery Tour
31 December 1967: Blue Jay Way (EPs: Magical Mystery Tour) Parlophone (JP criticises the negative press reaction to the first showing of the Magical Mystery Tour film on BBC TV. It is due to be repeated on BBC2 on the following Friday, but Tommy Vance remarks that there are 20,000 owners of colour TV sets in the whole country)
1968
1969
1970s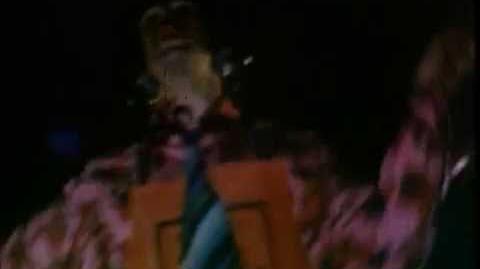 Everybody's Got Something To Hide Except Me And My Monkey (2xLP-The Beatles) Apple
(JP: "It's very difficult putting this programme together to decide which records to put in and which ones to leave out. For example, I was very wounded because I couldn't get And Your Bird Can Sing into the programme, but I didn't manage it.")
Here Comes The Sun (LP-Abbey Road) Apple
(JP: "We're going to end this series of programmes with the Beatles' best record in my view: a prejudiced view of course, but this is....")
Hey Jude (LP-Hey Jude) Apple
30 December 1976: Strawberry Fields Forever (LP-Magical Mystery Tour) Parlophone FF#17
(JP: "John Walters and meself were talking recently to a girl who works at the BBC called Veronica, and discussing the Beatles, and she said, 'Oh yes, I can just remember them.' Amazing when you think about it.")
Hey Jude! (LP-Hey Jude!) Apple FF#14
(JP: "My own favourite Beatles track didn't make it, unfortunately, which was And Your Bird Can Sing, but I'd like to thank the one person who did vote for it. Nice of them to try because it's a good record.")
03 January 1977: A Day In The Life (LP - Sgt Peppers Lonely Hearts Club Band) Parlophone FF#9
16 August 1977: Hey Jude (LP-Hey Jude) Apple
03 August 1978: My Guitar Gently Weeps (2xLP - White Album) Apple
03 October 1978: (JP: "The only track on the Siouxsie & The Banshees LP that isn't a group composition is Helter Shelter and it occurred to me that you might not have heard the original from 1968 from the Beatles' 'White Album'.")
Helter Skelter (2xLP – The Beatles) Apple
01 February 1979 (Paul Gambaccini): Crying, Waiting, Hoping (album - The Decca Audition Tapes)
19 March 1979: Do You Want To Know A Secret [LP – Please Please Me) Parlophone
16 April 1979: I Want To Hold Your Hand
18 September 1979: I Should Have Known Better (LP-A Hard Day's Night) Parlophone
30 October 1979: Mr Moonlight
1980
1993
15 May 1993: (Peel describes yesterday as grim. He had the unpleasant task, along with his brother, of going through his mother's things at her house in London to decide what to keep. She had died the previous year and they were having to sell her property. He did find a press cutting, which his mother had kept, of an article written by him when he was working in Dallas about the Beatles. John reads some of it out.)
1994
23 July 1994: Only A Northern Song (LP - Yellow Submarine) Apple
1999
2000
05 January 2000: I Am The Walrus (LP-Magical Mystery Tour) Parlophone ATFF#45
Others
Top Of The Pops
Covered
(The Beatles were probably the most covered of all artists on Peel's programmes; German band FSK even did a full session of Beatles covers. The list below was compiled from the Cover Versions page of this site and features only covers of original Beatles songs, NOT songs that the Beatles themselves covered. Please add further information if known.)
Performing Artist | Song | First Known Play
See Also
External Links
Community content is available under
CC-BY-SA
unless otherwise noted.