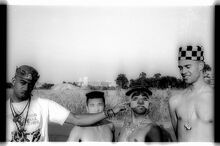 The Beatnigs were an American, San Francisco-based band between 1986 and 1990, which combined hardcore punk, industrial and hip hop influences, described as "a kind of avant-garde industrial jazz poets collective". The band was the initial collaboration of Michael Franti and Rono Tse, who would later form The Disposable Heroes Of Hiphoprisy, and Kevin Carnes who would later form Broun Fellinis. 
Links to Peel
Peel played some tracks from the group's album and invited the band to do a session for his show in 1988, which they did. Two members of the group later formed The Disposable Heroes Of Hiphoprisy, whose music was also played by Peel and listeners of the show voted their track Television (The Drug Of A Nation), originally a Beatnigs tune, at number 38 in the 1992 Festive Fifty.
Sessions
1. Recorded: 1988-12-04. Broadcast: 07 December 1988. Repeated: 03 January 1989
Suffering / The Statement On Built In Obsolescence / The Mash / Fight Fire With Water
Other Shows Played
1988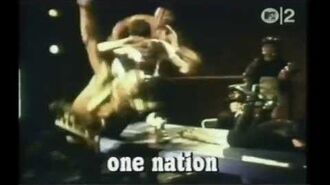 External Links
Community content is available under
CC-BY-SA
unless otherwise noted.