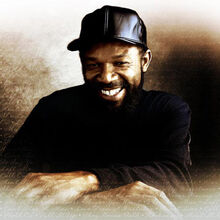 Beres Hammond (born Hugh Beresford Hammond; 28 August 1955, in Annotto Bay, Saint Mary, Jamaica) is a Jamaican reggae singer known in particular for his lovers rock music. While his career began in the 1970s, he reached his greatest success in the 1990s.
Born the ninth of ten children; Hammond grew up listening to his father's collection of American soul and jazz music; including Sam Cooke and Otis Redding. He was further influenced by the native musics of ska and rocksteady, in particular Alton Ellis.
(read more on wikipedia)
Links to Peel
Peel seemed to have first played Beres Hammond in the early 80's and once described Hammond having a wonderful voice on his Radio Bremen show in 1991 after his Emptiness Inside record was played, where he also criticised radio programmers in Britain in not playing Beres Hammond's music, describing them as total wankers, a word he certainly would not have got away with on his UK programmes:
"What a great record that is and what a wonderful voice too. I do wish the bulk of radio programmers weren't such total wankers because records like that don't simply get played on the radio at all here in Britain and it's very sad indeed"
Despite this, Peel continued supporting Hammond's music on his shows until his death.
Shows Played
1986
1989
1991
1992
1994
1999
2000
2002
2003
2004
External Links
Community content is available under
CC-BY-SA
unless otherwise noted.