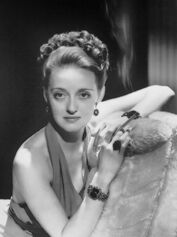 Ruth Elizabeth "Bette" Davis (April 5, 1908 – October 6, 1989) (commonly known as Bette Davis) was an American actress of film, television, and theater. With a career spanning 60 years, she is regarded as one of the greatest actresses in Hollywood history. She was noted for playing unsympathetic, sardonic characters, and was famous for her performances in a range of film genres, from contemporary crime melodramas to historical and period films, suspense horror, and occasional comedies, although her greatest successes were her roles in romantic dramas.
Links to Peel
Peel played a track from Bette Davis on his 16 April 1997 show singing I've Written A Letter To Daddy" from the film, Whatever Happened To Baby Jane?. The song was played before the second part of the session from Bette Davis & The Balconettes, a garage punk band from Manchester, who had in common the name but were totally unrelated to the Hollywood actress.
Bette Davis was past her peak as a Hollywood star by the time Peel became an established DJ, but was known to younger viewers from frequent showings of her best-known films on TV and from her appearances on talk shows. She was namechecked in the lyrics of Bob Dylan's epic song "Desolation Row" ("And puts her hands in her back pockets/Bette Davis style"). The band All About Eve took its name from one of her most famous films, directed in 1950 by Joseph P. Mankiewicz, in which the actress gave an award-winning lead performance..
The best-known song to refer to Bette Davis, Kim Carnes' hit of 1981, "Bette Davis Eyes", was hardly a Peel favourite, but provoked a parody title by Half Man Half Biscuit, "Dickie Davies Eyes". This referred to the presenter of ITV's World Of Sport rather than the Hollywood legend, although the song's lyrics mention various other people including album sleeve and poster designer Roger Dean. It topped the indie charts in 1986.
Shows Played
16 April 1997: I've Written A Letter To Daddy (Discogs credits the track to Debbie Burton as the b-side to a Bette Davis / Debbie Burton record, but other internet sources mentions Bette Davis) 
External Links
Community content is available under
CC-BY-SA
unless otherwise noted.