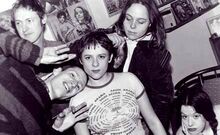 Bette Davis & The Balconettes were a Manchester based British garage punk band, formed in 1996 by Sam Ingleson (guitar and vocals), Tracey Rees (bass) and Sean (drums). Joined by Brian on organ and guitar, Eugene Wolstenholme then joined on organ soon after. The band released 5 singles and were on three different labels, Baby Boom, Damaged Goods, and Slampt. The group finally split in 1999.
Links to Peel
One of Peel's favourites in the late 90's, the band did a session for his show, where it is alleged that JP played pencils alongside the track 'Shergar' as hoof noises during that session. [1]
Festive Fifty Entries
Sessions
1. Recorded: 1997-03-23. Broadcast: 16 April 1997
Feed My Ego / Surf Surf Kill Kill / White Food / Big Pussy Sound / Shergar / 898
Other Shows Played
1999
03 January 1999 (BFBS): 'White Food (Compilation LP-Taking A Chance On Chances: Troubleman/Slampt Compilation From The Last Few Years Of The 1990s)' (Troubleman Unlimited / Slampt)
14 January 1999 (Radio Eins): Big Pussy Sounds (EP - Brighton Crawl) Melting Vinyl
19 January 1999: White Food (LP - Taking A Chance On Chances) Slampt
External Links
Community content is available under
CC-BY-SA
unless otherwise noted.