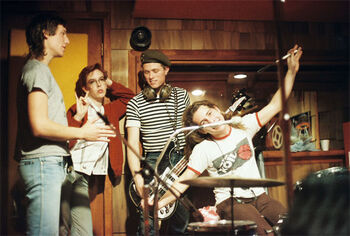 The Better Beatles
were a short-lived post-punk band from Omaha, Nebraska, USA. Their repertoire consisted of
Beatles
covers played in a deadpan, minimalist style reminiscent of the
Residents
or the
Flying Lizards
.
Recording sessions in late 1981 resulted in a self-released 7" single on Woodgrain records containing covers of 'Penny Lane' b/w 'I'm Down'. By the time the single was released in 1982, the group had split up.
In 2007 the single and other Beatles tracks recorded at the sessions were belatedly issued on the LP 'Mercy Beat' on Hook Or Crook records.
Links to Peel
On his show on 22 September 1982 Peel mentioned that he had been handed a copy of the single earlier in the week by an American youth waiting for him at the BBC. He played 'Penny Lane' and promised to play the other side on the following evening's show. Unfortunately, he subsequently found that the 7" had disappeared from the studio - missing presumed stolen, in his opinion: "very vexing indeed because quite clearly it was good and I wanted to play it again". Happily, having acquired a replacement copy a few weeks later, 'I'm Down' was aired on 20 October 1982.
Both sides of the single were featured in July 1991 as part of Peel's cover version specials. Of 'Penny Lane', he opined "much better than the original, of course."
Festive Fifty Entries
Sessions
Peelenium
Shows Played
The list below was researched only from the database of this site and Lorcan's Tracklistings Archive and may be incomplete. Please add further information if known.
Others
External Links
Community content is available under
CC-BY-SA
unless otherwise noted.