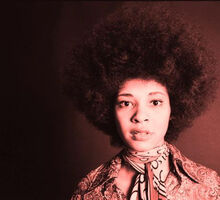 Betty Davis (née Mabry; born July 26, 1945) is an American funk and soul singer. Married to Miles Davis between 1968 and 1970. She is known as one of the most influential voices of the funk era and a performer who was known for her memorable live shows. Betty Mabry grew up in Durham, North Carolina, and just outside Pittsboro. On her grandmother's farm in Reidsville, North Carolina, she listened to B.B. King, Jimmy Reed, and Elmore James and other blues musicians. One of the first songs she wrote, at the age of twelve, was called "I'm Going to Bake That Cake of Love."
Aged 16, she left Pittsboro for New York City, enrolling at the Fashion Institute of Technology while living with her aunt. She soaked up the Greenwich Village culture and folk music of the early 1960s. She associated herself with frequenters of the Cellar, a hip uptown club where young and stylish people congregated. It was a multiracial, artsy crowd of models, design students, actors, and singers. At the Cellar she played records and chatted people up. She also worked as a model, appearing in photo spreads in Seventeen, Ebony and Glamour. (read more at Wikipedia)
Links to Peel
For a time, Betty Davis was best known for her marriage to Miles Davis; the sleevenotes to the CD reissue of his 1968 album Filles De Kilimanjaro, which he recorded just after their marriage, describe her as "Betty Mabry, the young R&B artist/hip scenemaker", who was "down with the hardest James Brown funk and the boldest, Hendrixian rock and helped drive Davis' vision into these areas". But their marriage was short-lived and she remaned closer to pop than the jazz scene to which Miles belonged.
Betty Davis also met, and sometimes collaborated, with other artists played by Peel, including Eric Clapton, Jimi Hendrix and Santana; reportedly she also met Marc Bolan during Tyrannosaurus Rex's 1969 tour of the US. When she abandoned modelling and established herself as a solo artist in the mid-1970's, her music was regularly played by Peel, but at the end of the decade she stopped producing new material and retired from the music scene. After that, he rarely played her songs, only revisitng a couple of tracks in the 1990s..
Shows Played
1975
1979
1981
1996
1997
See Also
External Links
Community content is available under
CC-BY-SA
unless otherwise noted.