(This page covers Bill Nelson's career outside Be Bop Deluxe, including with Bill Nelson's Red Noise.)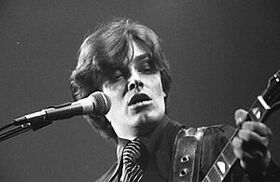 Bill Nelson (born William Nelson, 18 December 1948, Wakefield, West Riding of Yorkshire, England) is an English singer, guitarist, songwriter, producer, painter, video artist, writer and experimental musician. He rose to prominence as the chief songwriter, vocalist and guitarist of the rock group Be-Bop Deluxe, which he formed in the 1970s. Nelson has been described as "one of the most underrated guitarists of the seventies art rock movement".[1] In 2015, he was recognised with the Visionary award at the Progressive Music Awards. He currently lives in York. (Read more at Wikipedia.)
Links to Peel
"I was thinking about the contribution that Bill Nelson has made, largely unheralded, to our culture... And all of the stuff that he's done has been well worthwhile." (John Peel, 02 February 1981)
Bill Nelson was a fixture on Peel's shows through the 70s and beyond, with the DJ enthusiastically championing the musician's independently released debut solo album in 1971, work as leader of art-rock band Be Bop Deluxe, post-punk output with Bill Nelson's Red Noise and subsequent shift toward a prolific solo career in electronic music. As producer or musician, Nelson also worked with Peel session artists including A Flock Of Seagulls, Cabaret Voltaire, John Cooper Clarke, Gary Numan, Original Mirrors and Skids.[1][2] Nelson was among those who attended the DJ's wedding in 1974.[3]
Nelson himself was more than happy to acknowledge the vital role Peel played in his early life in music. In 2014, he wrote on his website forum:
"John used to call me at home sometimes for a little chat. Truth is, I was always somewhat nervous around him, (that's 'nervous approaching awe-struck.') He played such an important role in my listening life in the 1960s and I never got over the fact that he took my music under his broadcasting wing. His enthusiastic endorsement of my 'Northern Dream' album brought me to the attention of EMI records and led to the first Be Bop Deluxe album.
"I was out on the 2004 'Be Bop Deluxe And Beyond' 30th anniversary tour when he passed away. Such a shock and I was deeply upset. I'd bumped into him, for the first time in many, many years, only two weeks before his passing, at the BBC HQ in London ... He told me he was still at the same address and that I should contact him...
"When he died, I couldn't face going to the funeral/memorial thing. I knew there would be so many celebrity musicians there and I felt that I wouldn't have been able to hold my emotions in check. But I've never forgotten John and never will. A very important and gifted man with a heart of gold." [4]
Festive Fifty Entries
Sessions
Two sessions, first credited to "Bill Nelson's Red Noise". #2 available on The Practice Of Everyday Life: Celebrating 40 Years Of Recordings, 8xCD, 2011, Cocteau Discs. Also six sessions with Be Bop Deluxe.
1. Recorded: 1979-02-17. First broadcast: 1979-02-23 (Friday Rock Show). Repeated: 29 March 1979.
Furniture Music / Stay Young / Out Of Touch / Don't Touch Me I'm Electric
2. Recorded: 1981-06-02. First broadcast: 15 June 1981. Repeated: 02 July 1981, 31 August 1981.
Rooms With Brittle Views / Stay Young / Sleep Cycle / Jazz
Other Shows Played
1971
Peel is known to have played multiple tracks from Nelson's debut solo LP, 'Northern Dream' (see video interview above), but full details are currently unavailable due to a lack of show tracklistings from the year of release. Peel also played an earlier group release featuring Nelson, also recorded at Wakefield's Holyground studio (see International Times: Other Mentions listing below).
1972
25 April 1972: Photograph (A Beginning) (LP – Northern Dream) Smile
26 May 1972: Northern Dreamer (1957) (LP - Northern Dream) Smile
1979
1980
1981
1982
1983
1986
1998
See Also
References
↑ Pete Prown; HP Newquist (1997). Legends of Rock Guitar: The Essential Reference of Rock's Greatest Guitarists. Hal Leonard Corporation. p. 86. ISBN 978-0793540426.
External Links
Community content is available under
CC-BY-SA
unless otherwise noted.