"Billy Bragg, what a great bloke he is." (John Peel, 15 September 1996 (BFBS))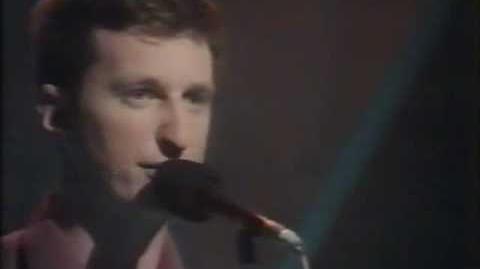 Stephen William Bragg (born 20 December 1957), better known as Billy Bragg, is an English alternative rock musician and left-wing activist. His music blends elements of folk music, punk rock and protest songs, and his lyrics mostly deal with political or romantic themes … (read more at Wikipedia)
Links To Peel
Peel first played one of Bragg's songs in June 1983 when Bragg, hearing the DJ mention on Kid Jensen's show that he was hungry, bought a mushroom biryani and rushed it to the BBC studios along with a copy of his first studio album Life's a Riot With Spy Vs Spy. Peel played the song at the wrong speed, initially.
Speaking on his show on 25 June 2003, Peel says that he received a mushroom biryani that evening from Billy to mark the occasion "twenty years ago to the night" of the incident. However, the 25 June 1983 was a Saturday when Peel did not broadcast. The date of the occasion was in fact 29 June 1983, where Peel initially played The Milkman Of Human Kindness at the wrong speed.
Festive Fifty Entries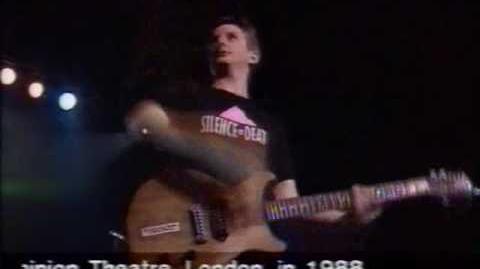 Peelenium
Sessions
Eleven sessions, the final four live in the studio.The first was released as The Peel Sessions (12" EP, Strange Fruit, 1987) and a selection of tracks on The Peel Sessions Album (LP/CD, Strange Fruit, 1991). 'Love Gets Dangerous' (from #1) appeared on Mixed Peel (cassette, NME, 1987) and 'A New England' (also from #1) on Winters Of Discontent The Peel Sessions 77-83 (2xLP/CD, Strange Fruit, 1991). Selected tracks on The Best of Billy Bragg at the BBC 1983-2019 (CD/Digital/Vinyl, 2019).
1. Recorded: 1983-07-27. First broadcast 03 August 1983. Repeated: 22 August 1983, 29 May 1985.
A New England / Strange Things Happen / This Guitar Says Sorry / Love Gets Dangerous / Fear Is A Man's Best Friend / A13 - Trunk Road To The Sea
2. Recorded: 1984-02-21. First broadcast 27 February 1984. Repeated: 24 April 1984.
Lover's Town / St. Swithin's Day / Myth Of Trust / To Have And To Have Not
3. Recorded: 1984-09-18. First broadcast 20 September 1984. Repeated: *26 December 1984
It Says Here / A Lover Sins / Between The Wars / Which Side Are You On
4. Recorded: 1985-08-20. First broadcast 02 September 1985. Repeated: 16 December 1985
Days Like These / Jeanne / The Marriage / There Is Power In A Union
5. Recorded: 1986-09-02. First broadcast 15 September 1986. Repeated: 01 October 1986, 01 December 1986, 30 December 1986
Greetings To The New Brunette / Ideology / The Warmest Room / Chile Your Waters Run Red Through Soweto
6. Recorded: 1988-08-30. First broadcast 19 September 1988. Repeated: 25 October 1988, 27 December 1988
The Short Answer / Valentine's Day Is Over / Rotting On Demand / She's Got A New Spell
7. Recorded: 1991-05-12. First broadcast 15 June 1991. Repeated: 18 August 1991
The Few / Accident Waiting To Happen / Tank Park Salute / Life With The Lions
8. Recorded: 1995-10-13 live in studio. First broadcast: 13 October 1995. Repeated 10 February 1996
Northern Industrial Town / A Pict Story / Brickbat / This Gulf Between Us
9. Recorded 1996-12-22, live in studio during Festive Fifty show. First broadcast 22 December 1996
Goal Hanger / Levi Stubbs / The Dark End Of The Street / A New England / Deck The Halls With Bows Of Holly
10. Recorded: 1998-07-09, live in studio. First broadcast: 09 July 1998 (featuring songs that didn't make his first album of Woody Guthrie songs with Wilco, Mermaid Avenue)
My Flying Saucer / Another Man's Done Gone / Black Wind Blowing / Psalm / A Song About Law And Order / All You Fascists Bound To Lose / Ingrid Bergman / Christ For President
11. Recorded: 2000-12-13. First broadcast 19 December 2000 (live performance at Festive Fifty 25 years special)
Brickbat / Way Over Yonder In The Minor Key
Live
Levi Stubbs Tears
Greetings To The New Brunette
New Song
Waiting For The Great Leap Forwards
Upfield
Sexuality
New England
Goal Hanger
Man In The Iron Mask
The Boy Done Good
Brickbat
Greetings To The New Brunette
From Red To Blue
Upfield
Great Leap Forward
Milkman Of Human Kindness
The Warmest Room
Way Over Yonder In The Minor Key
All You Fascists
California Stars
Glad And Sorry
A New England
It Says Here
Scholarship Is The Enemy Of Romance
Island Of No Return
The Myth Of Trust
Richard
Saint Monday
Gene
Levi Stubbs' Tears
A13 Trunk Road To The Sea
11 October 2001: recorded at King's College, 2001-09-24 (Peel's 40th anniversary in radio special)
A Lover Sings
Milkman Of Human Kindness
St Monday
She Came Along To Me
Everywhere
Other Shows Played
(The listing below is obviously far from complete and was compiled only from the database of this site and Lorcan's Tracklistings Archive. Please add more information if known.)
1983
1984
1985
1986
1987
1988
1989
1990
1991
1992
1993
1994
05 March 1994 (BFBS): The Milkman Of Human Kindness (mini-album - Life's A Riot With Spy Vs Spy) Utility
1995
22 October 1995 (BFBS): (JP: 'I had that Billy Bragg in the studio when I did my last programme here at home, playing some new songs, and of course he's such a nice man anyway, and the songs were really good...One of the records I was playing while he was waiting was 'Oz On 45' by the Squirrels, and when it first started, he said, "I'm not so sure about this one, John," and I said, "Ah! but wait till you get to the Lollipop Guild bit. And after you've heard that, you'll have to agree with me."')
29 December 1995: Northern Industrial Town (Peel Session) #37
1996
1997
1998
1999
2000
2001
2003
25 June 2003: Between The Wars (LP- Life's A Riot/ Between The Wars)' (Cooking Vinyl)
Other
See Also
External Links
Community content is available under
CC-BY-SA
unless otherwise noted.