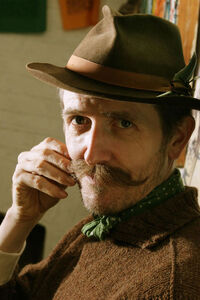 Billy Childish (born Steven John Hamper, 1 December 1959) is an English painter, author, poet, photographer, film maker, singer and guitarist. Since the late 1970s, Childish has been prolific in creating music, writing and visual art. He has led and played in bands including the Pop Rivets, Thee Milkshakes, Thee Headcoats, and the Musicians of the British Empire, primarily working in the genres of garage rock, punk and surf and releasing more than 100 albums.
He is a consistent advocate for amateurism and free emotional expression. Childish co-founded the Stuckism art movement with Charles Thomson in 1999, which he left in 2001. Since then a new evaluation of Childish's standing in the art world has been under way, culminating with the publication of a critical study of Childish's working practice by the artist and writer Neal Brown, with an introduction by Peter Doig, which describes Childish as "one of the most outstanding, and often misunderstood, figures on the British art scene". He is a visiting lecturer at Rochester Independent College. In July 2014 Childish was awarded an honorary Doctor of Arts Degree from the University of Kent.
He is known for his explicit and prolific work – he has detailed his love life and childhood sexual abuse, notably in his early poetry and the novels My Fault (1996), Notebooks of a Naked Youth (1997), Sex Crimes of the Futcher (2004) – The Idiocy of Idears (2007), and in several of his songs, notably in the instrumental "Paedophile" (1992) (featuring a photograph of the man who sexually abused him on the front cover) and "Every Bit of Me" (1993). From 1981 until 1985 Childish had a relationship with artist Tracey Emin.
Links to Peel
Peel first played Pop Rivets in 1979 and when the band split, he kept interest in Billy Childish's next project, the Thee Milkshakes. He even mentioned on his 18 January 1982 show that Billy was pestering him to play a track from the band's debut album, but claimed he'd lost his copy and only received a new one that evening. However, Peel did continue play the Thee Milkshakes material and also future projects that Billy got involved in, especially the Thee Headcoats and solo materials. On his novel, Notebooks of a Naked Youth, Peel is quoted as saying Billy Childish as being a cult rock icon. [1]
Sessions
Pop Rivets
1. Recorded: 1980-01-29. First Broadcast: 13 February 1980. Repeated: 11 March 1980
Where Have All The Good Times Gone / Going Nowhere / Beatle Boots / Empty Sounds
Other Shows Played
Pop Rivets
Thee Milkshakes / Milkshakes
Delmonas (a female trio group which Billy Childish founded and wrote some of their songs)
Thee Mighty Caesars
Wild Billy Childish
Thee Headcoats
Billy Childish
Thee Stash
31 March 1991: (We're) Selling Jeans For The U.S.A (7" - Should I Stay Or Should I Go?) Shakin' Street
06 April 1991: (We're) Selling Jeans For The U.S.A (7" - Should I Stay Or Should I Go?) Shakin' Street
Billy Childish And The Blackhands
Buff Medways
External Links
Community content is available under
CC-BY-SA
unless otherwise noted.