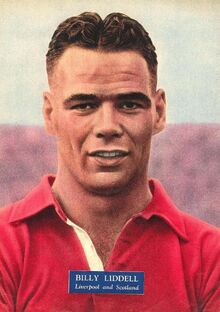 William Beveridge "Billy" Liddell (10 January 1922 – 3 July 2001) was a Scottish footballer, who played his entire professional career with Liverpool. He signed with the club as a teenager in 1938 and retired in 1961, having scored 228 goals in 534 appearances. He was Liverpool's leading goalscorer in the league in eight out of nine seasons from 1949–50 to 1957–58, and surpassed Elisha Scott's club record for most league appearances in 1957.
With Liverpool, Liddell won a league championship in 1947 and featured in the club's 1950 FA Cup Final defeat by Arsenal. He represented Scotland at international level on 29 occasions. While serving as a Royal Air Force navigator during the Second World War, Liddell continued his career by appearing in unofficial games for Liverpool and guesting for various teams in the United Kingdom and Canada. After his retirement from football, in 1961, Liddell occupied himself as a Justice of the Peace (from 1958), bursar of Liverpool University, and voluntary worker.
Links To Peel
Peel's long-standing idol was Billy Liddell, whose portrait hanged in the dining room at Peel Acres: an autograph signed on a newspaper flyer by the player was kept in his father's old desk and John referred to it as 'perhaps the most sacred item I own.'
Peel spoke to Liddell for the BBC Two programme One Man's Week, broadcast in February 1971. A Radio Times lead article for the programme stated that Liddell's was the only autograph he ever collected.[1]
In an interview with Jeff Mills for Fact magazine in 2003, Peel mentioned that his 'most treasured possession is probably Billy Liddell's autograph (one of the greatest Liverpool players and my boyhood hero – he was a god!).' [2]
In Margrave Of The Marshes (hardback edition, p50), Peel related how he acquired the great man's signature:
"On my first ever solo trip to Anfield, I had seen Liddell getting off the bus - in those days the players travelled on public transport - and had grabbed a flier for the Socialist weekly Reynolds News, and asked him to sign it."
An often-voiced regret of Peel's what that he played as a right-winger in football, not wide on the left like his hero Liddell.
External Links
Community content is available under
CC-BY-SA
unless otherwise noted.