Birmingham is a city and metropolitan borough in the West Midlands of England. It is the most populous British city outside the capital London with 1,073,000 residents (2011 census), an increase of 96,000 over the previous decade. The city lies within the West Midlands conurbation, the third most populous urban area in the United Kingdom with a population of 2,440,986 (2011 census). Its metropolitan area is also the United Kingdom's second most populous with 3,683,000 residents.
Links To Peel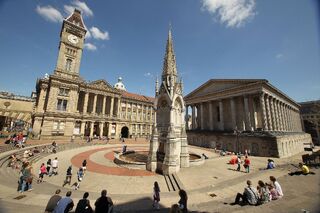 In the late 1960s, John Peel was a regular compere at Mothers club in Erdington, Birmingham, which ran for three years to 1971 and hosted many of the top bands of the era. In 1968-9 he also lent his support to the struggling Birmingham Arts Lab. On a November 1968 Top Gear [ref], he had to apologise to Birmingham's students after accusing them of apathy and unwillingness to support the city's Arts Lab.
He was also an acquaintance of early Black Sabbath manager Jim Simpson, founder of the city's Henry's Blueshouse venue[1] and Big Bear label - home of the Quads and apparently named after Peel's nickname for him.[2] Simpson was later a strong supporter of (so far unsuccessful) moves to rename Birmingham airport after Ozzy Osbourne.[3]
Although the industrial city is often associated with heavy metal, Peel tended to focus on other aspects of Birmingham's music culture, with Idle Race (six sessions) and Joan Armatrading (eight) among the favourites of the Top Gear era, before the arrival of British reggae pioneers Steel Pulse (five). From the late 1970s, Robert Lloyd emerged as a mainstay of the Peel wingding, with the Prefects, Nightingales, under his own name with the New Four Seasons, and also with Terminal Hoedown. Lloyd also launched the city's Vindaloo label, whose roster came to include Peel-played artists such as Fuzzbox, Terry And Gerry and Ted Chippington.
In the mid-80s, the city's Mermaid venue was central to the emergence of grindcore, which quickly became a major element of Peel's show, including local bands such as Napalm Death.[4] Birmingham is also known as the birthplace of modern Bhangra music,[5] which continued to interest the DJ from the 1980s. In later years, Peel session artists from the city came to include electronic dance music figures such as Regis and Surgeon, emerging alongside the local Downwards and Sandwell District labels.
Peel would often travel to the city for his DJ roadshows, including a celebrated gig at Aston University in October 1979 when he gave his fee to The Beat to persuade them to play their entire set again. In May 2000 and October 2001, he broadcast his programmes live from the city during two visits for the One Live festival.
During the late 90s, Peel narrated the Rock Family Trees series, which included one episode focusing on 1960s and 70s bands from Birmingham.[6]
Mentioned In Shows
Compilations
(EP - Mell Square Musick) No Rip Off
(LP - A Baker's Dozen From Vindaloo) Vindaloo
(LP – Brum Brum) City To City
(2xLP - Brum Beat Live At The Barrel Organ) Big Bear
See Also
External Links