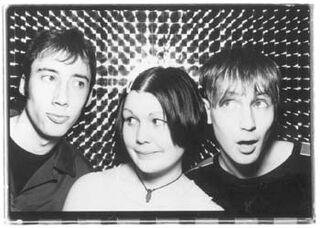 Bis
are a Scottish indie pop band composed of Steven Clark (Sci-fi Steven), John Clark (John Disco), and Amanda MacKinnon (Manda Rin). The band's name, rhyming with 'this', derives from "Black Iron Skyline", a lyric from the song Twilight of a Champion by The The. Formed in 1994, the band broke up in 2003, but reformed briefly in 2007 for a series of concerts. The three musicians formed Bis in 1994, when Rin and Disco were in secondary school and Steven had recently finished there. About a year later, they appeared on
Top Of The Pops
performing "Kandy Pop" from their Secret Vampire Soundtrack EP ahead of its release: much being made at the time about them being the first 'unsigned' band to do so (in reality dozens of bands had appeared on the show with singles released on labels they had no formal contract with other than as a distributor or, like Bis, on a single by single basis). The band's early releases were on Glasgow's Chemikal Underground label, run by
The Delgados
, before transferring to Wiiija, where labelmates included
Cornershop
. (Read more at
Wikipedia
.)
Links to Peel
In a 1997 interview, John Disco cited Peel as an example of someone whose age was less important than his musical perspective:
"He's done what he's wanted to do throughout his life. He's 54 or something, [1] and even though he still listens to some of the stuff that he liked when he was eighteen, he also likes to listen to drum-and-bass stuff. Some people don't like him because they don't think he should still be a youth icon--because he's that old. But I don't think people should criticize him for that. I think they should compliment him." [1]
Festive Fifty Entries
Sessions
Three sessions. #1 selected among Peel Sessions: The Best 125. Official releases:
- 'Super James' from #1 on Various Artists: Songs About Plucking 2x7", 1996 (Fierce Panda NING 18).
1. Recorded 1995-09-17. First broadcast 14 October 1995. Repeated 03 February 1996.
Teen-C Power / Super James / Kandy Pop / Icky-Poo Air Raid
2. Recorded 1996-06-04. First broadcast 16 June 1996.
Sweet Shop Avengers / Antiseptic Poetry / We Love John Peel / Keroleen / Rebel Soul
3. Recorded: 1998-06-28. First broadcast 04 August 1998.
Making People Normal / Action & Drama / The Hit Girl / It's All New
Live
This Is Fake DIY
Kandy Pop
Burn The Suit
Secret Vampires
Icky Poo Air Raid
School Disco
Kill Yr Boyfriend
Kandy Pop
Eurodisco
Other Shows Played
(The list below was compiled only from the database of this site and Lorcan's Tracklistings Archive. Please add more information if known.)
1995
1996
1997
1998
1999
2000
2002
Post-Peel
See Also
External Links
Footnotes
↑

Actually 58 at this time.
Community content is available under
CC-BY-SA
unless otherwise noted.