"They didn't sign for Dandelion, alas. Otherwise I'd be fantastically wealthy and probably living in Hollywood. And I'd probably be dead actually."
John Peel to Mary Anne Hobbs, 09 October 2001.[1]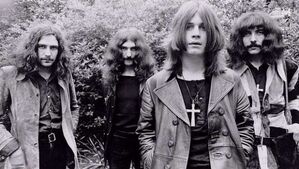 Black Sabbath are an English rock band, formed in Birmingham in 1968, by guitarist Tony Iommi, bassist Geezer Butler, singer Ozzy Osbourne, and drummer Bill Ward. The band has since experienced multiple line-up changes, with Tony Iommi the only constant presence in the band through the years. Originally formed in 1968 as a heavy blues rock band named Earth, the band began incorporating occult themes with horror-inspired lyrics and tuned-down guitars. Despite an association with occult and horror themes, Black Sabbath also composed songs dealing with social instability, political corruption, the dangers of drug abuse and apocalyptic prophecies of the horrors of war. (Read more at Wikipedia)
Links to Peel
Although John Peel wasn't particularly known as a major supporter of Black Sabbath, the DJ gave early radio exposure to the metal pioneers and indeed later claimed he tried to sign the band to the Dandelion label after seeing them and Medicine Head at a gig in Lafayette Club in Wolverhampton. This appears to have taken place on September 4, 1969. [2]
Peel first came across Ozzy Osbourne (lead vocals), Tony Iommi (guitar), Geezer Butler (bass guitar) and Bill Ward (drums) when the Birmingham four-piece were still using the name Earth and he was working as guest DJ when they supported Van Der Graaf Generator at the Bay Hotel in Whitburn, near Sunderland, in March 1969.[7] According to venue manager Geoff Doherty, the band "gave no real indication of how big they were eventually to become."[3]
By September, however, it was a different story. Now writing their own darker material and employing a heavier sound, Sabbath were managed by Peel acquaintance Jim Simpson,[4] who arranged a special gig at the Lafayette Club in Wolverhampton to showcase the band for the DJ, although they eventually signed for Vertigo Records the following month.[8] In November, though, a BBC session for Peel was recorded and broadcast on Top Gear.
The following year, on Friday 13 February, Sabbath's breakthrough first LP was released. Geezer Butler was later to recall that the band heard of the record's arrival in the UK album charts when listening to Top Gear on the way to a gig. [5] Peel had appeared with the band at Mothers club in Birmingham a week before the album hit the shops and subsequently introduced them (with Medicine Head) on his Sunday concert show on 26 April 1970. The following month, Peel was the compere when Sabbath appeared on the first day of the Hollywood Festival.[9]
Sabbath quickly emerged as one of the major bands of the 1970s, both in the UK and US. Further links with Peel appear to have been limited, though. In 1971, Tony Iommi told Record Mirror:
"We got on really well with John to begin with but something seems to have upset him. It's very difficult to say what gets into these people."[6]
In later decades, however, Peel would narrate the band's story as part of the Rock Family Trees TV series and in summer 2002 play several Latin covers of their songs by Estonian medievalists Rondellus. Sabbath singer Ozzy Osbourne would go on to find solo success and wider fame as a reality TV star, but was quick to pay tribute to Peel's support in the band's early career after the DJ died in 2004:
"He was a pioneer in his own right. If it wasn't for John Peel, Black Sabbath would never have been played on the radio. He was a good guy."[10]
Festive Fifty Entries
Sessions
One session only. No known commercial release.
1. Recorded: 1969-11-11. First broadcast: 29 November 1969. Repeated: 21 March 1970
Behind The Wall Of Sleep / NIB / Black Sabbath / Devil's Island (repeat broadcast only)
(Please correct mistakes and add any missing info)
Live
Black Sabbath - BBC Live Session John Peel's Show

26 April 1970 (John Peel's Sunday Concert)
Fairies Wear Boots
Behind the Wall of Sleep
Walpurgis (War Pigs)
Black Sabbath
Other Shows Played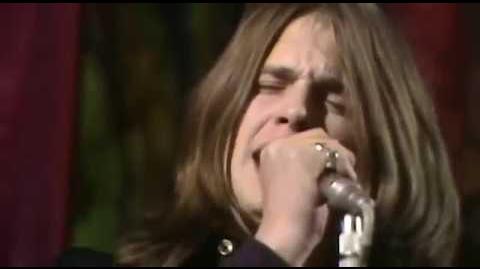 1972
1978
2001
Cover Versions
(The list below was compiled only from the Cover Versions page of this site. Please add more information if known.)
Artist | Track | First Known Play
See Also
External Links
Footnotes
Community content is available under
CC-BY-SA
unless otherwise noted.