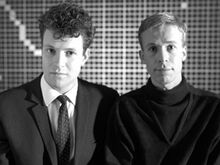 Blancmange are a British synthpop group who became famous with a number of hit singles from 1982 to 1984. Among their best known songs are 'Living on the Ceiling' and a cover version of the Abba song 'The Day Before You Came'. The duo of Neil Arthur and Stephen Lascombe released three albums in the eighties before splitting up. Arthur has since returned to the music scene under the Blancmange name and continues to record and play live. Read more on Wikipedia.[1]
Links to Peel
John Peel featured the group's debut single 'God's Kitchen' on his show in early 1982 before they had achieved any mainstream success. Their one and only session was also recorded and aired in February of that year prior to the band's first commercial release.
Festive Fifty Entries
Sessions
One session. Tracks 'Running Thin' and 'I Would' were unique to the session and are the only ones to have had an official release on The Very Best of Blancmange, 2012.
Recorded: 1982-02-13. First broadcast: 23 February 1982. Repeated 17 March 1982, 05 May 1982, 23 December 1982.
I Would / Living On the Ceiling / Waves / Running Thin
Other Shows Played
1982
1983
Top Of The Pops
External Links
Community content is available under
CC-BY-SA
unless otherwise noted.