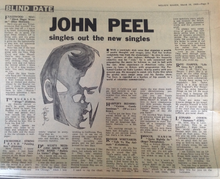 Blind Date was a feature in Melody Maker, where celebrities reviewed new singles of the week, without being told at first who the artists were, hence the name Blind Date. It is not known when it started, but it may have been inspired by the long-running "Blindfold Test" feature in the jazz magazine DownBeat. By 1964 it had become a regular part of the paper's singles review page[1], and continued into September 1968, when MM introduced a New Blind Date, which switched its focus to include not only singles, but also album tracks. After a few weeks the feature reverted to its earlier name of Blind Date, although the "new" element - the wider range of tracks - was retained
Links To Peel
Peel first appeared as a guest on Blind Date in the March 30th 1968 issue of Melody Maker, when he reviewed the following singles:
He appeared again as a Blind Date guest in the Melody Maker of 19 April 1969 (pp.16-17)[2], when he reviewed the following records:
Blind Date was also one of the Melody Maker features in which Peel was most frequently mentioned. Many Blind Date guests were sympathetic to the DJ and his musical tastes, but others weren't - see the Other Mentions sections of the Melody Maker: 1968 and Melody Maker: 1969 pages for examples.
References
↑ Rudy Pompilli (1924-1976) was tenor saxophonist with Bill Haley And His Comets.
See Also
Community content is available under
CC-BY-SA
unless otherwise noted.