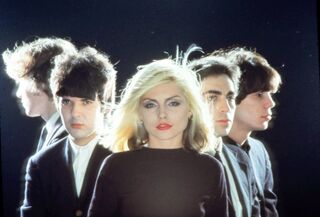 Blondie
is an American rock band formed in 1974. Their line-up has remained constant throughout their career, which included a 15-year hiatus. They were named as a nod to the image of their lead singer and co-songwriter, Debbie Harry (even though she is actually a brunette). They gained recognition on the NYC live circuit after playing at Max's Kansas City and CBGBs, despite having to share the bill on occasion with such formidable early punk bands as
Television
, the
Ramones
and
Talking Heads
.
The band were initially regarded as underground and unlikely to break through commercially, and their eponymous LP in 1976 created little interest. However, they were noticed by Chrysalis records, who bought out their contract with Private Stock and reissued that first LP, along with Plastic Letters (1978). This was bolstered by their current hit Denis (a cover of a Randy And The Rainbows song: it reached no. 2 in the UK charts), and Blondie achieved some credibility with the punk audience, who presumably appreciated Harry's sneering vocal attack. However, the group effectively destroyed this following with Parallel Lines (1979), which contained the disco-oriented Heart Of Glass, a major worldwide hit. After a string of UK chart hits, including Rapture, a flirtation with hip-hop, the band split up in 1982 in order for Harry to nurse her partner, guitarist and co-lyricist Chris Stein and pursue a variable solo career. They re-united in 1998, repeating their chart success and remaining active to this day.
Their influence on the Peel show was minimal: John played several tracks from Plastic Letters on its release but does not appear to have taken any further interest in their material (the fact that the show shunned the disco genre probably played a part in this, coupled with his preference for homegrown new wave as opposed to US imports). Nevertheless, he was not above playing the occasional cover version, as detailed below.
Festive Fifty Entries
Sessions
Other Shows Played
The list below was compiled only from the Cover Versions page of this site. Please add more information if known.
Artist | Track | First Known Play
External Links
Community content is available under
CC-BY-SA
unless otherwise noted.