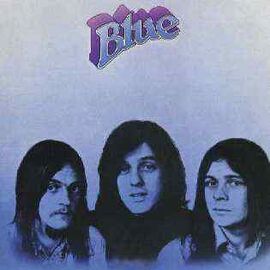 Blue was a British pop/rock group formed in Glasgow, Scotland, in 1973 by Timmy Donald (b. 1946, Bristol, Avon, England) (drums), Ian MacMillan (b. 1947, Paisley, Strathclyde, Scotland) (bass, guitar, vocal), and Hugh Nicholson (b. 1949, Rutherglen, Strathclyde, Scotland) (guitar, vocal, keyboard). Signed to Elton John's Rocket Records label (Elton also produced them), they released their self-titled debut album, then added Robert "Smiggy" Smith (b. 1946, Kiel, Germany) (guitar) for their second, Life in the Navy. They were then reorganized, with MacMillan and Nicholson remaining and adding Charlie Smith (drums) and David Nicholson (guitar). This lineup scored a U.S. singles chart entry and U.K. Top 40 hit with "Gonna Capture Your Heart" and recorded the third album Another Night Time Flight (1977) and the fourth album Fool's Party (1979), after which Blue broke up.
Links To Peel
Peel was a fan of the band from their early days and invited them to do seven sessions for his show during their lifetime. They were one of his favourite groups of the mid-1970s era; on the 12 July 1973 show he described seeing them perform live in Birmingham on the previous evening - "they were excellent" - and said he looked forward to seeing them again, on the following evening.
He mentioned on the 01 October 1993 show, after playing a track from another group called Blue, that their debut self titled album was his record of the year in 1973.
Sessions
1. Recorded: 1973-06-18. Broadcast: 28 June 1973
Look Around / Someone / Little Jody / Wish I Could Fly
2. Recorded: 1973-08-23. Broadcast: 18 October 1973. Repeated: 22 November 1973
Max Bygraves / Sad Sunday / Sittin' On A Fence / Too Many Miles
3. Recorded: 1974-04-09. Broadcast: 30 April 1974
Big Bold Love / Lonesome / You Give Me Love / Sweet Memories
4. Recorded: 1975-08-14. Broadcast: 21 August 1975
Dark Eyed Darling / Round And Round / I Know How It Feels
5. Recorded: 1976-01-22. Broadcast: 29 January 1976
I'll Be Satisfied / Careless Kinda Guy / Love Has Gone
6. Recorded: 1976-11-09. Broadcast: 18 November 1976
The Shepherd / Another Nighttime Flight / Charlie Black Arrow / Tired Of Loving You (Silver Dollars)
7. Recorded: 1977-08-08. Broadcast: 15 August 1977
Tired Of Loving You / I'm Alone / Bring Back The Love / Women
Other Shows Played
1974
1978
1993
See Also
External Links
Community content is available under
CC-BY-SA
unless otherwise noted.