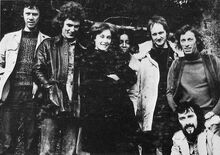 Blue Mink were a British six-piece pop group that existed from 1969 to 1974. Over that period they had six Top 20 hit singles in the UK Singles Chart, and released five studio based albums. Roger Coulam (keyboards) formed the band in the autumn of 1969, with Madeline Bell (vocalist), Roger Cook (vocalist), Alan Parker (guitarist), Herbie Flowers (bassist), and Barry Morgan (drummer). Most of the songs were written by Cook and Roger Greenaway.
Links to Peel
Peel proclaimed his worst record of all time was Blue Mink's Melting Pot song, which in the Telegraph, published on 14th March 2004, he described it as intensely irritating:
"I am quite often asked to choose my worst record of all time. There is a record by Blue Mink called Melting Pot. I would urge anyone looking for the worst record to look no further than that. It is one of those pointlessly optimistic records that I find intensely irritating."[1]
Not surprisingly, Peel did not play the song on his radio shows, nor any of the band's other material.
Shows Played
External Links