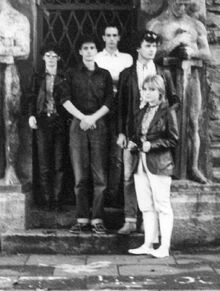 Blue Orchids are an English post-punk band formed in Manchester in 1979, when Martin Bramah (real name: Martin Beddington) decided to quit The Fall after playing on the band's debut album Live at the Witch Trials. Christened by Salford-based punk poet John Cooper Clarke the band recorded for Rough Trade and acted as backing band for the Velvet Underground's Nico before a 25-year period of intermittent activity and alternative identities. Having left The Fall, Bramah teamed up with keyboardist Una Baines, also an ex-Fall member, guitarist Rick Goldstraw (also ex-Fall), bassist Steve Toyne and drummer Ian Rogers (AKA Joe Kin). John Cooper Clarke suggested the name 'The Blessed Orchids' but according to Bramah, Goldstraw mis-remembered it as 'The Blue Orchids' and the name stuck. The band signed to Rough Trade Records and in November 1980 they released their debut single, a double A-side, "The Flood"/"Disney Boys". After this release Steve Toyne left the band and Rick Goldstraw took over the bass playing duties. In February 1981 they released their second single "Work".
(Read more on Wikipedia)
Links to Peel
Peel played the band's debut single in 1980 and also invited the group to do a session for his show in which they did. Follow up singles were also played by Peel before a second session from the group on his programme in 1982. After their second session, the band split before reuniting in 1985. However, the group didn't last long and split, where Bramah formed a new group with ex-Fall drummer Karl Burns called Thirst. The group only released one record, the Riding the Times EP, in 1987, which Peel gave airplay on his show around that time.
In 1991, Bramah returned with a new incarnation of Blue Orchids which featured ex-Smiths guitarist Craig Gannon on guitar, Martin Hennin on bass and Dick Harrison on drums. Their first release was a single called "Diamond Age". That track also got played by Peel on his programmes, as well as further new material from the group in 1992. After that, Peel revisited some of their old material after the band officially split in 1995. The group later reunited after Peel's death.
Sessions
1. Recorded: 1980-12-08. First Broadcast: 17 December 1980. Repeated: 21 January 1981
The House That Faded Out / Work / Low Profile
2. Recorded: 1982-04-17. First Broadcast: 05 May 1982. Repeated: 06 February 1985
A Year With No Head / No Looking Back / Bad Education / Sun Connection
Other Shows Played
1980
1981
1982
1983
1984
1985
1986
1990
1991
1992
1997
26 February 1997: 'Work (7 inch)' Rough Trade
17 March 1997 (BFBS): 'Work (7")' (Rough Trade) (JP: 'Anybody who writes in and says "That's the best record you've played this week" is in trouble, I'll warn you about that now.')
2001
2002
External Links