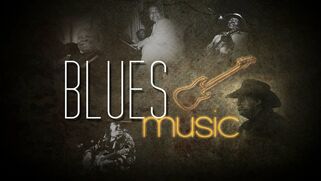 Blues is a genre and musical form that originated in African-American communities in the "Deep South" of the United States around the end of the 19th century. The genre is a fusion of traditional African music and European folk music, spirituals, work songs, field hollers, shouts and chants, and rhymed simple narrative ballads. The blues form, ubiquitous in jazz, rhythm and blues and rock and roll, is characterized by the call-and-response pattern and specific chord progressions, of which the twelve-bar blues is the most common. The blue notes are also an important part of the sound. Blues shuffles or walking bass reinforce the trance-like rhythm and form a repetitive effect called a groove.
Many blues elements, such as the call-and-response format and the use of blue notes, can be traced back to the music of Africa. The origins of the blues are also closely related to the religious music of the Afro-American community, the spirituals. The first appearance of the blues is often dated to after emancipation and, later, the development of juke joints. It is associated with the newly acquired freedom of the former slaves.
Chroniclers began to report about blues music at the dawn of the 20th century. The first publication of blues sheet music was in 1908. Blues has since evolved from unaccompanied vocal music and oral traditions of slaves into a wide variety of styles and subgenres. Blues subgenres include country blues, such as Delta and Piedmont, as well as urban blues styles such as Chicago and West Coast blues. World War II marked the transition from acoustic to electric blues and the progressive opening of blues music to a wider audience, especially white listeners. In the 1960s and 1970s, a hybrid form called blues rock evolved....(Read more at Wikipedia)
Links To Peel
From his early years as a listener and record-buyer, Peel was a big fan of the blues and when working in America, he appeared on WRR in 1961 as a 'blues expert', describing and playing his blues collection - thus beginning his career in radio. The DJ later recounted the story in the documentary programme Radio Radio:
"So I took these records in and said, "Would you be interested in playing these?" And they said, "Very much so." And I went to sit in the studio while they were playing them and they realized – I also had a Lightnin' Hopkins LP called The Rooster Crowed in England, which was issued on Dobell's Records in a limited edition of like a couple of hundred, and Lightnin' Hopkins was important enough that they were very excited about this sort of unavailable Lighnin' Hopkins LP. So I went in and they were playing these records, and then Hoss Carroll said, "Let's talk to the man who has loaned them to us" – so they put me on the radio."
Blues records and sessions remained a part of Peel's programmes throughout his career. Even his final show for Radio One, on 14 October 2004, included blues tracks by his favourite Jimmy Reed and 1920s Memphis blues songster Frank Stokes, the latter track reflecting his love of country blues, which began in the 1950s when he bought his first blues records.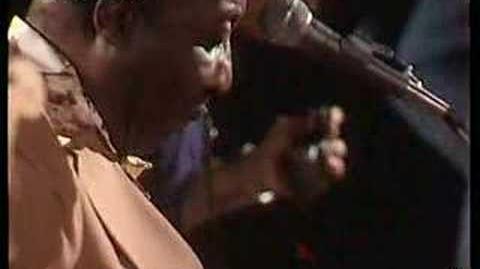 As he relates in Margrave of the Marshes (pp.132-133), Peel bought his first blues LP when he was doing his National Service in the army. At the time he was a fan of Lonnie Donegan, the first of many British artists to be inspired by the blues, and followed up his interest in Donegan by buying an album by Sonny Terry and Brownie McGhee and one by Lightnin' Hopkins, which made a more lasting impact on him. On his BFBS show of 10 April 1997 (BFBS) Peel described how he bought what he then thought was his first blues LP, by Muddy Waters, after playing 'Long Distance Call' by the musician:
"Possibly the first blues LP I bought: certainly, I bought it when I was in the army me self and took it back home when I was on leave one weekend and played it to my mum. My mother, a woman of extraordinary judgement and taste, thought it was one of the best things she'd ever heard, and she was quite right."
After Peel had made his debut on WRR's Kat's Karavan, his subsequent radio career in the US was on Top 40 stations, and in the 1960s, American blues singers seldom had pop hits on the national charts (although when he lived in Texas, he was pleased to find that some of his favourites were popular there). However, the "British Invasion" groups who  had commercial success in America in the wake of the Beatles, included many who cited Muddy Waters, Jimmy Reed, Howlin' Wolf, Elmore James and other US bluesmen as major influences; among them were the Rolling Stones, Yardbirds, Kinks and Spencer Davis Group.
By the time Peel returned to Britain in 1967, a "blues boom" was under way, with "father figures" like John Mayall and Alexis Korner encouraging younger musicians, and Cream and Jimi Hendrix, both heavily blues-inspired, emerging as big names. Blues records were heard regularly on the Perfumed Garden (leading to occasional complaints from less blues-oriented listeners); the final PG included five versions of Elmore James' composition "Dust My Blues" by different artists. The tune came to sum up the British blues era, as every band seemed to include it in their live set.
Blues artists were strongly featured on Peel's BBC programmes of the late 1960s, both American originals and new British performers including Fleetwood Mac, Chicken Shack,the Jeff Beck Group, the John Dummer Blues Band, Duster Bennett, and Ten Years After. There were Peel sessions from country blues veterans Fred McDowell and Son House, tracks from reissue albums on labels such as Yazoo and Saydisc were part of Night Ride playlists, and that show also included sessions by British country blues revivalists like Mike Cooper and Jo-Ann Kelly, as well as American visitors like Stefan Grossman and John Fahey. Peel would often remind his listeners to listen to Radio 1's R&B show, then presented by the blues-loving Mike Raven.
Peel hosted blues festivals and appeared on discussion platforms alongside the blues broadcaster and academic Paul Oliver, author of The Story of the Blues (1969) and many other books on the music. The earnestness of the British blues scene attracted satire from the Liverpool Scene in their "I've Got Those Fleetwood Mac, Chicken Shack, John Mayall, Can't Fail Blues", while the Bonzo Dog Doo Dah Band asked "Can Blue Men Sing The Whites?" By early 1969 Peel was becoming critical of the trend, writing in International Times: "it seems that any band prepared to get up and hammer out 'blues' distortions is assured of frenzied applause and a record contract. There are many good blues bands but not THAT many" .[1]
Peel's favourites of the era, the Misunderstood and Captain Beefheart, were both influenced by the blues, but developed their own individual take on it. In the 1970s the blues boom gradually declined, with many of the blues-inspired artists who were featured on Peel' s shows, like Led Zeppelin, the Groundhogs and the Climax Blues Band, moving into rock styles of their own. Some blues originals, like Muddy Waters and B.B. King, benefited from white listeners' increasing interest in their music, but blues began to sound old-fashioned to black audiences and few new blues perfomers emerged. Peel too began to pay more attention to soul music - yet he never lost his love of the blues.
In 1975 after his Top Gear show came to an end, Peel was given his own show in September that year and chose a blues instrumental track from Grinderswitch, Pickin' The Blues (based on an Elmore James original), which was used as an intro to his show for 17 years until 1992. Peel chose another blues track from Ike Turner, 'Prancin' as the intro to his VPRO show from the Netherlands between 1984 and 1986.
Throughout his radio career, Peel would plays blues or blues influenced tracks on his shows, although most of the blues records he played in his later career were vintage tracks or reissues, rather than new releases. Most of the blues or blues-rock musicians who did Peel sessions were British, and although there were occasional sessions from visiting American blues originals like Earl Hooker, Billy Boy Arnold and Arthur Crudup, he never managed to persuade any of the biggest American blues stars to record sessions for his show, However, he was moved when the veteran country bluesman Son House did a session in 1970. His own tastes were for "the wild men of the blues", as he told John Walters; he favoured the rural blues tradition which had led to urban blues, rhythm and blues and rock and roll, and tended to avoid the more sophisticated forms of the blues, which were closer to jazz or pop. Artists that were influenced by the blues such as Jimi Hendrix, White Stripes and Jawbone were popular favourites with Peel listeners, and some of their tracks entered the Festive Fifty. During the Peelenium, many tracks chosen by Peel were blues or blues influenced songs that remained among his biggest favourites.
See Also
External Links