Ellas Otha Bates
(December 30, 1928 – June 2, 2008), known by his stage name
Bo Diddley
, was an American rock & blues vocalist, guitarist and songwriter (usually as Ellas McDaniel). He was also known as
The Originator
because of his key role in the transition from the blues to rock, influencing a host of acts, including
Buddy Holly
,
Jimi Hendrix
,
The Rolling Stones
,
Pink Floyd
,
The Velvet Underground
,
The Who
,
The Yardbirds
,
The Jesus and Mary Chain
,
Eric Clapton
,
Elvis Presley
, and
The Beatles
, among others. He introduced more insistent, driving rhythms and a hard-edged electric guitar sound on a wide-ranging catalog of songs, along with African rhythms and a signature beat (a simple five-accent clave rhythm) that remains a cornerstone of rock and pop. Accordingly, he was inducted into the Rock and Roll Hall of Fame and received Lifetime Achievement Awards from the Rhythm and Blues Foundation and a Grammy Award from the National Academy of Recording Arts and Sciences. He was known in particular for his technical innovations, including his trademark rectangular guitar. (Read more at
Wikipedia
.)
Links To Peel
In 1997, Bo Diddley was one of four artists chosen by Peel to write about in a Sunday newspaper article as important musical influences (others included The Fall).[1]
Peel was a fan of traditional urban blues music and especially of those artists he called "the wild men of the blues", including the likes of Muddy Waters and Howlin' Wolf, but the DJ described the effect of hearing Bo Diddley and others on Kat's Karavan while driving in his car in America in the early 1960s as "galvanising" (Margrave Of The Marshes, p189, Corgi, 2005). An LP by the musician was one of the first four albums Peel bought while living in Dallas.[2]. He later admitted regretting that he never saw Bo Diddley live in his prime.[3]
Other Shows Played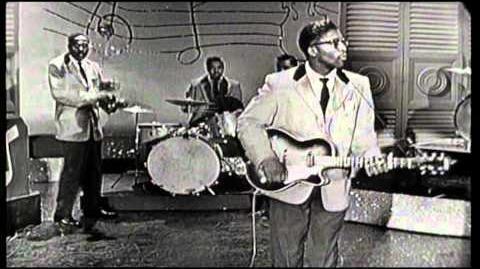 (The following list was compiled only from the database of this site and 
Lorcan's Tracklistings Archive
 and is certainly incomplete. Please add further details if known.)
1972
1973
1979
1980
1981
1983
1984
1986
1987
1988
1989
1990
1991
1992
1993
1995
1996
1997
1998
1999
2000
2001
2002
2003
2004
Others
Covered
(The list below was compiled only from the Cover Versions page of this site. Please add more information if known.)
Artist | Track | First Known Play
See Also
External Links
Community content is available under
CC-BY-SA
unless otherwise noted.