We're Getting Mutants in the MCU - The Loop
Play Sound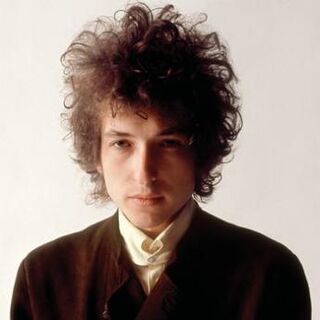 Bob Dylan has exercised a greater influence on subsequent generations than any other singer or musician who emerged in the 1960s. He has also gained a loyal, worldwide fan following and, as the first pop singer to appeal to an educated, "intellectual" audience, has been the subject of a vast amount of literature - all of this in spite of the mixed critical response to his work following his heyday in the 1960s and 1970s. Wikipedia's article on Dylan contains a full account of his career, including his receiving the 2016 Nobel Prize for Literature.
Links to Peel
In Margrave Of The Marshes, Peel relates that he was introduced to Dylan's work during his early years in the US by his Texan girlfriend Nancy Bowling, but admitted he did not share the uncritical reverence much of his generation expressed for the singer and his work. His DJ career in the US coincided with Dylan's rise to fame and switch from folk to pop, with a series of chart hits which were featured in the playlists of the Top 40 stations where John Ravencroft (as he was then known) worked. At the end of 1966 the Kmentertainer, the newspaper of the station for which Peel was working at the time, published a full-page article on Dylan as one of the "Hitmakers Of The Year". No author is credited, but the references to blues singers and some stylistic touches seem to hint that Peel, editor of the newspaper at the time, may have written, or re-written, parts of it.
He continued to play Dylan's work on his return to England, at first on the Perfumed Garden, where he featured (sometimes as listeners' requests) songs from Dylan's 1965-66 albums, such as "Gates Of Eden", "Tombstone Blues" (with "guitaring" by Mike Bloomfield), "Desolation Row" and his favourite, "It Takes A Lot To Laugh, It Takes A Train To Cry", which was later featured in the Peelenium. In 1967 Dylan was still recovering from his motorcycle accident of August 1966, and on one Perfumed Garden Peel read a letter from Mick Farren, which contained reassuring news that the singer was in good health, and countered the wilder rumours which had been circulating.
Dylan's work also appeared on Top Gear, with Peel neatly sidestepping the controversy when the singer abandoned his poetic and allusive lyrics and produced an album of simple country-pop songs, Nashville Skyline, simply by saying he liked the LP. Later in 1969, "Desolation Row" was played as the final track on the final Wednesday night programme ("son of Night Ride"), and after that Peel continued to play Dylan's new releases of the 1970s, while occasionally revisiting tracks from 1965-66. On Rockweek, The Basement Tapes was played as a new release, and Peel called it "marvellous music" [ref], presumably because it was close to the rootsy rock'n'roll he liked, but in the second half of the 1970s Dylan's new work began to meet with a mixed critical response and it was seldom featured in Peel's shows after 1979. On 29 October 1979, Peel described Dylan's latest single, 'Man Gave Names To All The Animals' as "probably one of the most gruesome records of all time", and, in his end-of-year round-up of rock music developments in 1979 for the Listener, he remarked that "Dylan located Jesus and became boring overnight" [1]
Peel wrote a memorable rubbishing of a Bob Dylan concert for the Observer (of 18 October 1987). It won him few friends among Dylan's devoted following (he later recounted, on his show of 20 August 1993, that he had received hate mail), but was nevertheless included in The Dylan Companion [2], an anthology of writing about the singer. It expressed what many disillusioned former admirers were feeling ("Being an enigma at 20 is fun, being an enigma at 30 shows a lack of imagination, and being an enigma at Dylan's age is just plain daft...From the moment the living legend took to the stage, it was evident that here was business he wanted accomplished with the minimum of effort".). Later, even Dylan himself admitted that his performances and records of the 1980s had been mediocre. In his Chronicles Volume One (2004, p.146), he wrote: "....my live performances never seemed to capture the inner spirit of the songs - had failed to put the spin on them. For the listeners, it must have been like going through deserted orchards and dead grass..."
However, Peel was never entirely dismissive of Dylan, and played tracks from Good As I Been To You, the 1992 album which was hailed a a return to form, admitting that he had written off Dylan on the evidence of his 1980s work. He also remarked (reprinted in the Olivetti Chronicles) that he had "even enjoyed a couple of Dylan songs" from the Traveling Wilburys' first LP. Dylan tracks, many of them from the 1965-66 albums Bringing It All Back Home, Highway 61 Revisited and Blonde On Blonde, appeared in his later shows, before and after the millennium, although the last Dylan song he played was "Girl From The North Country", from The Freewheelin' Bob Dylan, the singer's 1963 breakthrough LP and one of the early "folk" albums which Peel had largely ignored.
In some ways his attitude to the singer resembled that of the historian (and jazz lover) Eric Hobsbawm, who in his autobiography Interesting Times: A Twentieth Century Life (London, 2003) acknowledged Dylan's "fragments of genius" but ultimately found him "a potential major poet too idle or self-absorbed to keep the muse's attention for more than two or three lines at a time" (p.252). As Peel put it in 1980: "Strange that none of us at the time said, "Hey Bob, what the hell are you on about anyway?"
Peelenium
Festive Fifty Entries
Desolation Row #03
Like A Rolling Stone #10
Visions Of Johanna #23
Hurricane #44
Like a Rolling Stone #36
Desolation Row #46
Sessions
Other Shows Played
(The list below was compiled only from the database of this site and Lorcan's Tracklistings Archive, and is incomplete. Please add further details if known.)
1967
1968
1969
1970
1972
1973
1974
1975
1976
06 January 1976

: Desire – full album (Since Peel had stolen the world exclusive on this from under the noses of Capital Radio, it is presumed he played the whole thing, but no audio recording is yet available to confirm or deny this. What is certain is that he took one track off while it was still playing, a story he recounted on several occasions.)
13 January 1976: Hurricane (LP-Desire)' (CBS) (comes to an abrupt halt when Peel drops the cover on the record)
15 January 1976: Mozambique (LP - Desire) Columbia

15 September 1976

: Tracks from the 'Hard Rain' LP
27 December 1976: Hurricane (LP – Desire) CBS FF#44
29 December 1976: Visions Of Johanna (LP-Blonde On Blonde) CBS FF#23' (JP: There were something like fifty different Dylan songs voted for by listeners, so for that reason alone, not a great many of them got into the Festive Fifty....)
1977
1978
06 March 1978: Train A-Travelin' (v/a LP - Broadside Ballads Vol. 6: Broadside Reunion) Folkways
06 March 1978: The Ballad Of Emmett Till (v/a LP - Broadside Ballads Vol. 6: Broadside Reunion) Folkways
1979
1980s
1990s
2000s
Other Shows
References
↑

John Peel: A Life In Music, Michael Heatley, Michael O'Mara Books, p. 63.

↑

Page 352 under the section of 17th October 1984 in the Good Night And Good Riddance book, where the author describes what was played on Peel's show ten years ago.
Covered
Listing taken only from the Cover Versions page of this site. Please add more information if known.
Performing Artist | Song | First Known Play
See Also
External Links
References