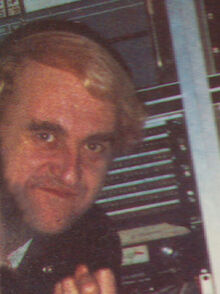 Bob Sargeant (c. 1940's - 13 July 2021) was a British Tyneside-based musician and later producer, who enjoyed his greatest success as one of the most notable producers of the new wave era. He first surfaced as a member of Junco Partners in the late 60's and later joined Everyone, a short lived band between the late 60's and early 70's led by Liverpool Scene guitarist Andy Roberts. He also joined as a keyboardist with Mick Abrahams' backing band, on Abrahams' 1971 self-titled solo debut and in 1975 Sargeant issued his lone solo album, First Starring Role. After briefly joining Curved Air in time to play on their 1976 LP Airborne, he resurfaced three years later in the producer's seat, helming the Ruts' Crack, the Monochrome Set's Strange Boutique a year later, and subsequent work with the Beat and Any Trouble solidified Sargeant's status as a rising talent. In addition to producing both of the The Beat's other studio albums, he also helmed Haircut 100's 1982 debut Pelican West. In 1985 Sargeant worked on the Damned's Phantasmagoria, followed a year later by the Woodentops' acclaimed debut Giant. From the late 1980s onward, however, he was largely inactive.
Links to Peel
Peel seemed to become aware of Bob Sargeant when he was keyboard player in Andy Roberts' band Everyone, who did a session for Top Gear in 1970. In 1971-2 he did two more Peel sessions as a member of the Mick Abrahams Band.
In 1973, Sargeant did his first session uder his own name for Top Gear and a year later released his debut and only album, First Starring Role, whose single, First Starring Role, was voted by Peel as one of his top 15 singles of 1975. In total, Sargeant did six sessions for Peel's shows, despite only releasing one album and a few singles.
Sargeant also produced many number of sessions for John Peel's BBC radio programme, especially artists such as the Buzzcocks, Wire, Madness, The Undertones, Gang of Four and Gary Numan later seeing official release.
Sessions
1. Recorded: 1973-03-27. Broadcast: 10 April 1973. Repeated: 12 June 1973
King Of The Night / Love Of A Kind / Situation
2. Recorded: 1973-12-11. Broadcast: 01 January 1974. Repeated: 19 February 1974
Sunshine Blue / Between You And Me / Situation / The Waiting Game
3. Recorded: 1974-05-30. Broadcast: 13 June 1974. Repeated: 18 July 1974
Let Yourself Go / Never Again / First Starring Role
4. Recorded: 1975-05-21. Broadcast: 02 June 1975. Repeated: 07 July 1975
Situation / Can You Feel It / Everyday's A Lonely Day / Sunshine Blue/First Starring Role
5. Recorded: 1976-04-06. Broadcast: 29 April 1976. Repeated: 04 June 1976
Broadway / Prisoner Of Love / The Radio Goes On Forever / Here We Go Again
6. Recorded: 1977-06-14. Broadcast: 21 June 1977. Repeated: 22 July 1977
Dancing At The Jookjoint / City Kids / Life Theme/Story Of My Life / Open Up Your Heart
Other Shows Played
19 December 1975: 'First Starring Role (7")' (RCA 2507) #10 Peel's Festive 15 Singles
1979
See Also
External Links