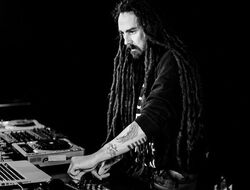 Bong-Ra is the alter ego of Jason Köhnen, an electronic artist hailing from Utrecht, Netherlands. Bong-Ra initially started as a DJ, but quickly focused his priority on producing his own music in 1997. Bong-Ra has released many albums and singles, as well as, different aliases such as Dr Azzacov, Dr Azzacove, Ebenezer Gumsville, Glowstyx, Jason Kohnen, Killahman Machine, Pagan Bacchus, Porcelain Minotaurs, The Goat Of Mendes and White Darkness. His music has been described as Jungle-oriented, experimental Drum & Bass and Breakcore.
Links to Peel
Peel seemed to have discovered Bong-Ra in 2001, when the artist gave him a demo. He later met Bong-Ra in the Netherlands and explained further about the meeting on his 15 January 2002 show:
"We also met Bong-Ra, who's based in Utrecht and who'd sent us a demo. And I'd phoned him up and promised I'd phone him back but in the well-intentioned way that I have, had failed to do so. And so we made contact with him and he's going to send us some more demos and very possibly we'll be asking him to do a session for us."
The session did take place a month later, which was recorded at Bong-Ra's studio.
In 2003, Peel nominated Bong Ra's Peel Session release as one of his favourite singles for February 2003 (Peel's Record Box). A year later Peel nominated Bong-Ra's Old Skool Armageddon single as one of his favourite singles for June 2004 (Peel's Record Box) as well as his Conquering Lion EP for August 2004 (Peel's Record Box).
Sessions
The session is available on the Peel Session single (12", Death$ucker Records, 2003)
1. Recorded: 2002-02-21. First Broadcast: 21 February 2002
Rocket Punch Generation / Ghettoblaster / Hakkken (Marion RMX) / Archie Bunker Disciples
Other Shows Played
Bong-Ra
External Links
Community content is available under
CC-BY-SA
unless otherwise noted.