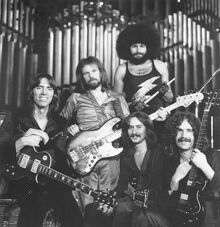 Boston is an American rock band from Boston, Massachusetts, who had their most notable successes during the 1970s and 1980s. Centered on guitarist, keyboardist, songwriter, and producer Tom Scholz, the band best-known works include the song "More Than a Feeling". They have sold more than 75 million records worldwide, including 31 million albums in the United States, of which 17 million were from their self-titled debut album and seven million were for their second album, Don't Look Back, making them one of the world's best-selling artists. Altogether, the band has released six studio albums.
Links To Peel
Peel mentioned buying an import debut LP of Boston from a French lady, whilst shopping in Marble Arch, London, on his 03 September 1976 show.
Boston's second album didn't enthuse Peel very much, admitting on his 17 August 1978 show that he was very enthusiastic about their debut LP when it was issued a couple of years ago, but substantially less enthusiastic about the second one. Nonetheless Peel played some tracks from the LP thinking that listeners might be interested in hearing them.
By the 80's and beyond, Peel seemed to have lost interest in the band and rarely played any tracks from them.
Shows Played
1978
External Links