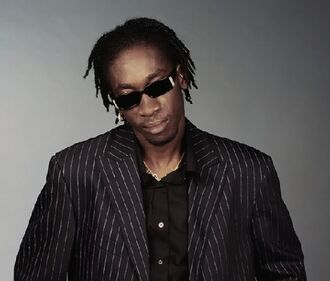 Rodney Basil Price (born 12 June 1972), known as
Bounty Killer
, is a Jamaican
reggae
and dancehall deejay from Trenchtown, Kingston. AllMusic describes him as "one of the most aggressive dancehall stars of the '90s, a street-tough rude boy with an unrepentant flair for gun talk". He is considered one of the best dancehall lyricists of all-time.
Through Jammys, Bounty released his breakthrough hit, "Coppershot" (1992). The lyrics were autobiographical as Bounty was shot and nearly killed at age 12 in a crossfire, which occurred during a spur of political violence plaguing his community. The song gained popularity throughout Jamaica, the U.S. the U.K., and Canada.
In 2003, Price cancelled two of his concerts after the LGBT magazine Outrage! petitioned Scotland Yard for his arrest, claiming songs about bashing gays would incite harassment against the gay community. He returned in 2006 after a three-year hiatus, performing uncensored lyrics at several venues without recrimination. He has since directed his focus to social commentary and party lyrics, admitting that he will not pay attention to nor attack the gay community in his music....(Read more at Wikipedia)
Links to Peel
Price had a minor UK chart hit with It's A Party in early 1999, which gave a hint as to the direction his music would subsequently pursue, but John neglected to play it.
Despite Price's inclination to homophobic lyrics, Peel consistently played his music from the start of his career to the end of his (JP's) life. This contrasts with Shabba Ranks, who disappeared from John's playlists after a similar furore.
Festive Fifty Entries
Sessions
Other Shows Played
1993
1994
1995
1997
1998
1999
2000
2001
2003
2004
External Links
Community content is available under
CC-BY-SA
unless otherwise noted.