(This page is about the British band. For the city of the same name, see Bradford).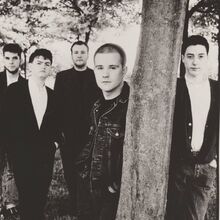 Bradford were an English skinhead indie band from Blackburn, Lancashire active between 1987 and 1991. They rose to prominence after Morrissey proclaimed them heirs to The Smiths' throne. The band were signed to Smiths producer Stephen Street's Foundation label. The band's debut single, "Skin Storm" was released in 1988 and had the distinction of being the first self-financed single to be released on compact disc.
The band opened for Morrissey at his first post-Smiths concert at Wolverhampton Civic Hall.1989 saw two further singles, both hits on the UK Indie Chart and an album, Shouting Quietly, produced by Stephen Street and released on the Sire Records label in the United States. Sales of the album were disappointing though and the band were dropped by their label. An album collecting tracks from their early singles was also issued by Midnight Music in France. In 1991, Morrissey recorded a cover version of "Skin Storm".
Vocalist Ian Hodgson went on to form a new band, Afterglow whilst guitarist Ewan Butler wrote and performed with US rap artist Ithaka. Ian now performs in Blackburn with Acoustic Uprising and occasionally plays guitar with Clash tribute "On Parole".
Links To Peel
Bradford handed Peel their debut album and on his 26 July 1988 show, mentioned that he has not keen on their LP, until he heard Morrissey liking it, which prompted him to pretend to like it.
Shows Played
1988
External Links