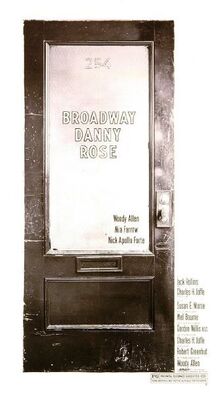 Broadway Danny Rose is a 1984 American black-and-white comedy film written, directed by and starring Woody Allen. The film was about a hapless talent manager named Danny Rose, by helping a client, gets dragged into a love triangle involving the mob. His story is told in flashback, an anecdote shared amongst a group of comedians over lunch at New York's Carnegie Deli.
Links To Peel
On his 25 September 1984 show, Peel mentioned he didn't feel well and one of the reasons maybe might be down is that he went to see the latest Woody Allen comedy film that evening and emerged depressed:
"I came walking out sort of downcast and looking at the floor and thinking, 'Is life worth preserving with?'"
External Links
Community content is available under
CC-BY-SA
unless otherwise noted.