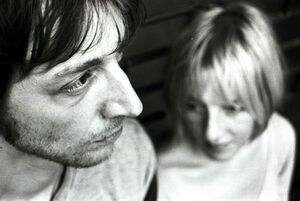 Broken Dog were a London-based experimental rock band started in 1994 formed by Martine Roberts and Clive Painter in the summer of that year. They disbanded in 2004 following their fifth album 'Harmonia'. Influenced by American artists such as the Grifters, Swell, Pavement, Smog, Will Oldham and Guided By Voices. Their name comes from an unpublished Paul Verlaine libretto. They were signed to Big Cat (UK) Records in 1995 and released their self-titled debut album in 1996 when John Peel began playing their recordings and invited them to record the first of four Peel sessions. Both Martine Roberts and Clive Painter have been known for collaborating with other bands such as Tram, Monograph and The Real Tuesday Weld.
Links to Peel
In an interview with Penny Black Music website in 2017, Clive Painter described his reaction when the band's track Lullaby was played:
"I had always been a big fan of John Peel, coming from a small town and being so into music and it providing an escape and the feeling that the outside world was a place that I couldn't wait to be in. He played 'Lullaby' while I was pottering around one evening. I remember the moment, I was so shocked, like, waaaaaooooowwwww. After that he played everything we ever released, everything. It was so special to feel that someone out there was listening to and loved our music. It added something valuable to the process of making it because then it wasn't just for us." [1]
Painter continued in the interview describing how he covered one of Peel's favourite songs for his 60th birthday:
"We did the cover of 'The Night They Drove Old Dixie Down' as a birthday present for John Peel. On his 60th birthday John's producer Anita Kamath secretly sent out a list of his favourite songs to his favourite bands of the time, asking each to choose and record a song for a surprise birthday CD. And so we choose to record 'Dixie' from the list. If memory serves I think we chose it because it felt like the least likely song that we would pick and that in itself might appeal to John. After all it was his birthday." [2]
In 2000, members of Broken Dog took part in a carol-singing choir singing Christmas Carols for Peel's Christmas special live show that was broadcast from Peel Acres on 21 December 2000.
Sessions
1. Recorded: 1997-02-16. Broadcast: 06 March 1997
Stop Your Banging / In The Dark / Where Will You Go When Theres Nowhere Left To / Baby I'm Lost Without You
2. Recorded: 1998-09-01. Broadcast: 22 September 1998
Door / Eventually You Could Mean Nothing To Me / Halo Of Days / Well Of Comfort / Light Passing Through
3. Recorded: 1999-07-18. Broadcast: 28 September 1999
Slope / Stranger / Drink Was The Height Of The Day / They Were Real
4. Recorded: 1999-12-08. Broadcast Live: 08 December 1999
5. Recorded: 2000-08-02. Broadcast: 05 September 2000
Stay On My Side / Will There Be Drinks / Never Too Far / You've Gone Over To The Other Side
Other Shows Played
1996
1997
1998
1999
2000
2001
22 May 2001: Home Is A Crevice In The Grass (CD - Brighter Now) Kitty Kitty
28 June 2001: Home Is A Crevice In The Grass (CD - Brighter Now) Kitty Kitty
15 August 2001: Brilliant Things (LP - Brighter Now) Kitty Kitty
2002
2003
See Also
External Links