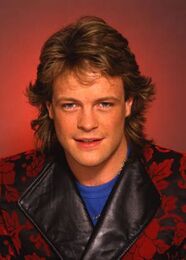 Bruno Brookes (Trevor Neil Brookes, born 24 April 1959 in Stoke-on-Trent, Staffordshire) is an English radio presenter who became prominent on British radio and TV in the 1980s and early 90s.
He began his career at BBC Radio Stoke, before being moving on to BBC Radio 1 in early 1984.[1] He started out as a stand-in for Steve Wright on Sunday afternoons and later took over the late afternoon weekday show from Peter Powell in September.[2] He began presenting the Sunday afternoon Top 40 chart show in March 1986, also presenting the first 'real time' Top 40 in October 1987.[3] In February 1993 he famously played the uncensored version of Rage Against The Machine's "Killing in the Name Of" as a new entry on the week's chart and consequently was later suspended for several weeks.
As a Radio 1 DJ he was also part of the Top of the Pops presenter roster and hosted 48 editions of the show until he was sacked by Radio 1, and by default from TOTP, in 1995. Brookes also hosted the BBC children's TV show Beat The Teacher between 1987 and 1988.
He is currently CEO of Immedia, which creates and provides music and visual content for the retail industry.[4](Read more on wikipedia).
Links to Peel
Before presenting his first full Top of the Pops in September 1984, Brookes appeared briefly on the previous week's edition, hosted by Janice Long and Peel. Brookes asked the latter on air, "I've got to present this show next week can you give me a bit of advice?", to which Peel retorted, "Just don't do it like this".
Peel mentioned Brookes during an interview conducted in Cardiff for the One Live shows in the city in October 2000: "...He turned up (to Peel Acres) once driving a car which cost eight times more than our house had cost us...and it was one of those things where we thought shall we say it's great to see you or shall we set the dogs on him? Unfortunately we opted for the latter more sociable option." [5] [6]
Brookes was mentioned by Peel in a piece for The Observer, published 10 July 1988, in relation to a radio interview "by the influential DJ" with Kylie Minogue. (The Olivetti Chronicles, pp.221-222)
After Peel's death Brookes said, "When other DJs were out doing roadshows he was there sitting in his chair, choosing his music...He was the authority. There was never any sense that john must move on, because who was going to replace him?". (Wall M., John Peel, Orion, 2005.)
In a 2019 interview for Radio Times Janice Long recalls Peel saying, "Do you know what, if I ran Radio 1 I'd get rid of everybody. Apart from you and me, of course. And Bruno Brookes. I'd put him on reception".
See Also
External links
Community content is available under
CC-BY-SA
unless otherwise noted.