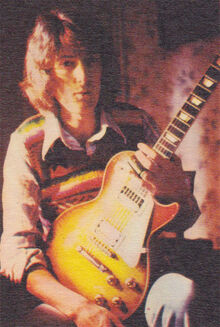 Bryn Haworth (born 29 July 1948) is a British Christian singer-songwriter, guitarist, and pioneer of Jesus music in mainstream rock. Born in Blackburn, Lancashire, UK, he has released some twenty-two albums and several singles since the 1970s as well as guesting as guitarist on many other albums by rock and folk artists. He continues to tour in the UK, appearing mostly at smaller venues, Christian centres and at prisons. He has also appeared three times at the UK Greenbelt Festival. His chosen instruments include guitar (particularly slide or bottleneck guitar) and mandolin.
Links to Peel
Bryn Haworth made his first Peel show appearance as a member of Fleur De Lys, who were the backing band on a 1967 session by white South African soul singer Sharon Tandy. Later, Haworth became a member of Jackie Lomax's band; Peel mentioned that he was impressed with his guitar playing on Lomax's third album, when he played a track from it on his 29 February 1972 show.
When Haworth decided to go solo, Peel and producer John Walters booked the artist to do three sessions, between 1974 and 1976. On an incomplete recording of the 15 September 1975 programme, it seemed Peel was about to say that he was disappointed with Haworth's record label, Island, in failing either to issue his albums or promoting him to his liking. However, as punk became popular, Haworth became more and more involved with Christian music, appealing to audiences which had little connection with the rock public or the mainstream music business. After 1976, there were no more Peel sessions by Bryn Haworth and the DJ never played any tracks from his many later albums.
Sessions
1. Recorded: 1974-12-12. Broadcast: 08 January 1975. Repeated: 13 March 1975
Used / Pick Me Up / Darling Cory / Ee I Love You
2. Recorded: 1975-07-08. Broadcast: 21 January 1975. Repeated: 15 September 1975
Dance / Good Job / How Long / Make Love Your Aim
3. Recorded: 1976-11-16. Broadcast: 29 November 1976. Repeated: 03 February 1977
Send Down The Rain / We're All One / I Just Can't Get Used To Your Love
Other Shows Played
See Also
External Links