Bulgaria (Bulgarian: България, tr. Bǎlgariya), officially the Republic of Bulgaria (Bulgarian: Република България, tr. Republika Bǎlgariya), is a country in southeastern Europe. It is bordered by Romania to the north, Serbia and Macedonia to the west, Greece and Turkey to the south, and the Black Sea to the east. With a territory of 110,994 square kilometres (42,855 sq mi), Bulgaria is Europe's 16th-largest country. Bulgaria is one of the oldest European countries and is the only one that hasn't changed its namе ever since it was founded in 681 AD.
Bulgaria's population of 7.4 million people is predominantly urbanised and mainly concentrated in the administrative centres of its 28 provinces. Most commercial and cultural activities are centred on the capital and largest city, Sofia. The strongest sectors of the economy are heavy industry, power engineering, and agriculture, all of which rely on local natural resources.
Bulgaria is a unitary parliamentary republic with a high degree of political, administrative, and economic centralisation. It is a member of the European Union, NATO, and the Council of Europe; a founding state of the Organization for Security and Co-operation in Europe (OSCE); and has taken a seat at the UN Security Council three times.
Links To Peel
Bulgarian folk music attracted interest in the West in the 1960s and 1970s, after a 1955 LP of the Ensemble of the Bulgarian Republic, recorded in Paris, was released in the US by Elektra Records in 1964, and then reissued on the label's Nonesuch imprint. This led to further LPs of Bulgarian folk music appearing on Nonesuch and Topic Records. The music's exotic harmonies and unusual rhythms influenced many of Peel's favoured artists, from folk groups like the Incredible String Band, Planxty and Dando Shaft to rock artists like Crosby, Stills and Nash and Led Zeppelin. However, it wasn't until the fall of Communism that Bulgarian folk musicians were able to perform regularly in Western Europe.
In the late 80's, Peel played a significant amount of Bulgarian folk music on his shows, especially artists such as the Trio Bulgarka, a female traditional vocal ensemble, whose prominence led to them working with artists such as Kate Bush and getting played on Andy Kershaw's show. The female choir known as Le Mystère des Voix Bulgares, singing in the same style as the ensemble who recorded in Paris in 1955, made the UK independent charts in 1986 with an album issued on 4AD Records, and were also played by Peel on his shows,
Peel first visited Bulgaria in the summer of 1991 with Sheila and son William, which was reflected in two BBC World Service programmes, devoted completely to the Bulgarian rock scene: 01 August 1991 (BBC World Service) and 08 August 1991 (BBC World Service).
Sheila described her experience of the trip with Peel in Margrave Of The Marshes:
"The children didn't normally accompany us on these trips, although William came with us on one World Service expedition to Bulgaria, where we spent a week or so on a double-decker bus, stopping off at various places to hand out pens and leaflets and carrier bags. We would get mobbed in market squares by people desperate for anything we were willing to give them. At the end of each day we would clean the bus, then sleep in a hotel and set off the next morning to distribute more pens and leaflets and carrier bags. It was on that trip that William fell dramatically in love with three different girls, two of whom nursed him on a park bench after he had been horrible sick. In recent years he seems to have recovered from this whirlwind non-romance, and also to have severed his emotional attachment to Bulgarian wine."[1]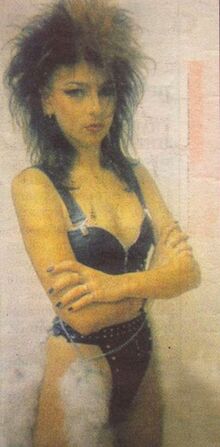 Sarah Lampert who worked in the British Consulate in Bulgaria in 1991 described Peel's trip to Bulgaria and how the media was distracted by Bulgarian singer Milena Slavova's leather shorts-clad bottom:
"Rock concerts for the then UDF[2]. Rock music was a huge part of political life, because it had previously been suppressed and controlled. John Peel, a well known British DJ came in 1991 to experience the rock scene, and we held a very untypical diplomatic reception at the Deputy Head of Mission's Residence in Boyana. The TV coverage focused mainly on Milena's leather shorts-clad bottom."[1]
Peel also claimed on his show on 22 November 2001 to be one of the few people in the country to have visited Bulgaria twice (1991 & 1994):
"The second time I went … I gave a press conference in something like the grand hall of the congress of the people. There were about 100 journalists in there and none of us knew why we were there. And one of them said, 'Is it perhaps because you've been to Bulgaria twice?' And I said, 'Well, that's as good a reason as any.' So we kind of accepted that was why it was."
Compilations
(Tracks played by Peel from various artist (v/a) compilations featuring music from Bulgaria. Please add more information if known.)
(LP - A Harvest, A Shepherd, A Bride: Village Music Of Bulgaria) Nonesuch Explorer
(LP - 'The Music Of Bulgaria') Hannibal
(LP - Le Mystère Des Voix Bulgares: Volume 2) 4AD
See Also
External Links
Footnotes
↑

Margrave Of The Marshes (2005, Corgi edition, page 406-7)

↑

UDF stood for Union of Democratic Forces, and was founded in 1989 as a union of several political organisations in opposition to the communist government.
Community content is available under
CC-BY-SA
unless otherwise noted.