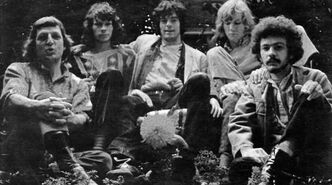 Burnin Red Ivanhoe is a Danish progressive rock band that was formed by Karsten Vogel in 1967 in Copenhagen, Denmark. After a couple of years touring, the band were signed by the Sonet label in 1969 and released their debut album M144. In the UK, the group's record distribution was done by Dandelion Records after Peel heard their debut album. They also received some positive write-ups in Melody Maker. After several albums, the group split in 1974 with Karsten Vogel forming Secret Oyster. In later years, the band reformed several times and changed members but till this day still continues touring and recently released their 2013 album BRI.
Links To Peel
Peel heard the band's debut album M144 in 1969 and after seeing them perform was quoted as writing in an article that it was the best live band he had seen.[1] After interviewing them for Melody Maker in November 1969, Richard Williams wrote:  "When John Peel was in Denmark recently he was very impressed with the band, and their friend Walter Klaebel told me the normally reserved Peel was jumping on tables, screaming with joy at the sound. I can well believe it".[2]
Immediately the band were signed to Dandelion Records for distribution in the UK. Peel even co-produced the band's eponymous 2nd album, Burnin Red Ivanhoe (together with Colosseum bassist Tony Reeves) under the name of Eddie Lee Beppeaux (one of his favourite made-up names - see Glossary). After Dandelion Records folded and the group split, Peel rarely played the band's material, and even less when punk emerged in the late '70's, although according to BBC Genome they made an Old Grey Whistle Test appearance as late as 1981.
Richard Williams, the journalist who had written enthusiastic articles on Burnin' Red Ivanhoe in the early 1970s in Melody Maker, enthused in 2015 on his blog over the band's reunion album BRI. Noting the role that airplay on Peel's shows had played in winning the band an audience in the UK, he wrote: "But this album isn't about the recreation of past glories. It's about creation in real time, by real musicians who've made excellent use of the intervening years. What a shame Peel isn't around to hear how good they've become."
Shows Played
1969
1970
External Links