Broadcast Date
05 December 1992: index card incorrectly dated 02 May 1992.
Cassette Brand / Description
TDK D60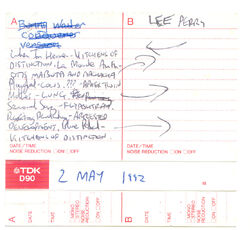 Length
31 minutes (recorded on Side B of the tape)
Description
News timing allows placing of exact period of recording (11:23-11:54 p.m.). The fact that the programmes of this period ran from 11 p.m. to 2 a.m., and that this is apparently near the end of the show, implies a different broadcast time on this occasion. Side A is given over to a Lee Perry album.
Quality
Good stereo recording, but with audible hiss during speech segments.
Tracklisting?
Yes
Ripper
SIG
Date Sent
2008-10-25
Date Returned
n/a
Notes
Aphex Twin #1 (first broadcast). Kitchens Of Distinction, one and only (repeat). Only one track by the former and two by the latter are present on this recording.
Community content is available under
CC-BY-SA
unless otherwise noted.