Broadcast Date
19 May 1995 - part 3
Cassette Brand / Description
TDK AD60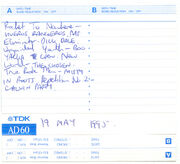 Length
C60
Description
31 minutes from the end of the show: taped over Supremes LP. Side B is occupied by a show from Kiss 100.
Quality
Very good, with some static in the middle of the recording.
Tracklisting?
Yes
Ripper
SIG
Date Sent
n/a
Date Returned
n/a
Notes
Calvin Party, #2: Huevos Racheros, one and only.