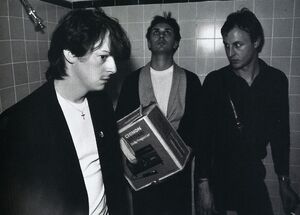 Cabaret Voltaire
were a British industrial /
electronic music
group from
Sheffield
, England formed in 1973. Initially composed of Stephen Mallinder,
Richard H. Kirk
, and Chris Watson, the group was named after Cabaret Voltaire, a nightclub in Zürich,
Switzerland
, that was a centre for the early Dada movement. Their earliest performances were Dada-influenced performance art, but Cabaret Voltaire later developed into one of the most prolific and important groups to blend pop with dance music, techno,
dub
, house and experimental electronic music. 
The band experimented widely with sound creation and processing. They eventually turned to live performance, often sharing the bill with Joy Division. In one incident, Mallinder was hospitalised with a chipped backbone after the band had objects thrown at them. However, the arrival of punk rock brought a more accepting audience for their industrial and electronic sound.
(Read more on Wikipedia.)
Links To Peel
Peel discovered the group in 1978, when the Rough Trade record label sent him their first single, Extended Play, which he liked very much. The DJ continued playing their material over many decades and invited the band twice for sessions. In 1987, the Code LP featured longstanding Peel favourites Adrian Sherwood (producer) and Bill Nelson (guitar).[1]
In addition to Cabs releases, Peel also gave generous airtime to 12" "bleep techno" singles made by Richard H. Kirk with Sweet Exorcist, released by fledgling Sheffield label Warp Records, as well as other solo works and collaborations. The year before his death, the DJ played and included in his April 2003 (Peel's Record Box) Kirk's "Man From Basra" remix of the Cabs' "Yashar".[2]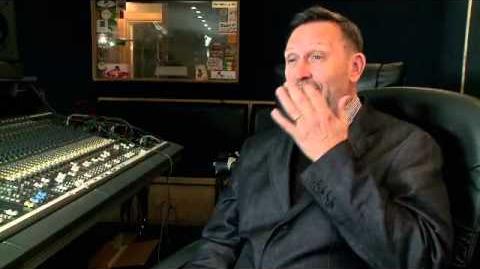 In 2012, 12 Cabaret Voltaire LPs were among the first 100 albums by artists beginning with C when details of Peel's record collection were initially released via TheSpace website (see Record Collection: C). Unsurprisingly, the band were also selected as the subjects of a related video, "C is for... Cabaret Voltaire". In an interview with the John Peel Centre, Stephen Mallinder expressed appreciation for Peel's support for the group and for playing different genres, including reggae and dub, that weren't heard anywhere else on the radio.  
Festive Fifty Entries
Sessions
Two sessions only. #2 released on Radiation (BBC Recordings 84-86) CD, 1998 (New Millennium).
1. Recorded: Unknown. Broadcast: 25 June 1981. Repeated: 20 July 1981
Black Mask / Greensborough / Walls Of Jericho / Jazz The Glas
2. Recorded: 1984-10-14. Broadcast: 22 October 1984. Repeated: 06 November 1984, 22 January 1985
Sleep Walking / Big Funk / The Operative
Other Shows Played 
(The list below was compiled only from the database of this site and Lorcan's Tracklistings Archive. Please add more information if known.)
1978
1979
1980
1981
1982
1983
1984
1985
1986
29 April 1986: The Drain Train (12") Doublevision
25 June 1986: Shakedown The Whole Thing (12" - The Drain Train) Doublevision
1987
1989
1990
1992
1996
1997
2003
Others
RICHARD H. KIRK
Peter Hope & Richard H Kirk (collaboration)
Sweet Exorcist (collaboration)
Countzero (produced)
Sandoz (solo alias)
Citrus (collaboration)
Richard H Kirk (credited artist)
See Also
External Links
Community content is available under
CC-BY-SA
unless otherwise noted.