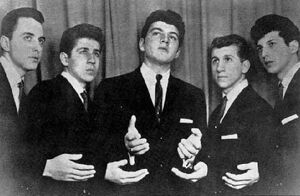 The Capris are an American doo wop group who became a US one-hit wonder in 1961 with "There's a Moon Out Tonight.", which peaked at number 3 in the Billboard Hot 100. They experienced a popularity and performing resurgence in the 1980s, when three members reformed and The Manhattan Transfer recorded their song, "Morse Code of Love," which reached the US Hot 100.
All of the original members were Italian Americans from the borough of Queens in New York, United States. Started by first tenor Mike Mincieli and Rosario Morice (Sonny) who later left the group when he joined the Navy, the original group coalesced in 1958 – also including Nick Santo (Santamaria) lead baritone, second tenor Frank Reina, baritone Vinnie Narcardo, and bass John Cassese. Their name was taken from the Lincoln Capri.
In 1958, they recorded two songs for Planet Records, "Indian Girl," and "There's a Moon Out Tonight." When the record sold badly, they disbanded and went their separate ways. Alan Fredericks, a late night radio disc jockey continued to play their song, piquing the interest of Jerry Greene, an employee of the Times Square Record Store. Greene purchased the master and re-issued the record on Lost Nite Records. WINS 1010's disc jockey Murray the K played the song often, and it sold well. Realizing that their manufacturing and distribution capacity could not meet the demands of a hit record, Greene and Lost Nite sold their interest to Old Town Records, which had the capacity to meet the needs of the 1961 number three national hit.
For a time, the Capris toured and performed in major venues all over the United States, but none of their follow up records sold well, and by 1963, members of the original group started to leave the ensemble. Some continued to perform locally as the Capris, but with no national profile.
Links to Peel
Peel first heard the Capris, whilst living in America, where they had their big hit, There's A Moon Out Tonight, in 1961. The song was an instant favourite of Peel and he would dedicate the track to his wife, The Pig, on many of his shows. In fact the song was such adored by Peel, that he added it as one of the four songs in his Peelenium 1960. He also included the track in his FabricLive.07 compilation album. No other tracks from the Capris seemed to have been played by Peel.
Shows Played
1979
1988
1991
1992
1996
1998
1999
2001
2003
External Links
Community content is available under
CC-BY-SA
unless otherwise noted.