(This page covers both The Caretaker and other projects involving James Leyland Kirby, including V/Vm.)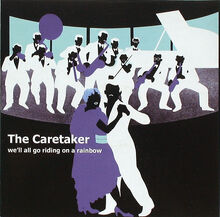 The Caretaker is a long-running project by electronic musician James Leyland Kirby, who also records as V/Vm. His work under the Caretaker moniker has been characterised as exploring memory, nostalgia, and melancholia. Initially the project was inspired by the haunted ballroom scene in the 1980 film 'The Shining', with his first several releases consisting of treated and manipulated samples of '30s ballroom pop recordings.
His works have received critical acclaim in publications such as The Wire and BBC Music, and the project was a favourite of BBC Radio DJ John Peel.
(Read more at Wikipedia.)
Links to Peel
John Peel played numerous tracks from the Caretaker albums 'A Stairway To The Stars' (2002) and 'We'll All Go Riding On A Rainbow' (2003), which also both featured in his monthly Record Box selections for the BBC website, perhaps drawn by their echoes of pre-war discs from his show's Pig's Big 78 slot. While no Caretaker tracks reached the Festive Fifty during the DJ's lifetime, the second decade of the 21st century saw a fresh series of releases and F50 entries on Dandelion Radio yearly charts.
As well as material put out under the Caretaker moniker, Peel also played often disturbing cover versions by James Leyland Kirby under other aliases, notably V/Vm. In 2012, the V/Vm album 'Masters Of The Absurd' (2000) was among the 100 albums by artists beginning with V when details of Peel's record collection were initially released via TheSpace website. (See Record Collection: V.) The LP was subsequently featured as the "Hidden Gem" for the letter V at the John Peel Archive blog. [1]
Festive Fifty Entries
Sessions
Other Shows Played
2000
2002
2003
V/Vm
Rasherford & Binson
28 September 1999: Solid (2xCD - AuralOffalWaffleTenPintsOfBitterAndABagOfPorkScratchings: 52 Fast Moving Tracks) V/Vm Test
Billy Ray Cyrix
15 October 2003: The Night They Drove Old Dixie Down (Mini CD - Achy Breaky Hard Drive) V/Vm Test (JP: "Sounded more like 'Rag Mama Rag' to me, but then what do I know?")
See Also
External Links