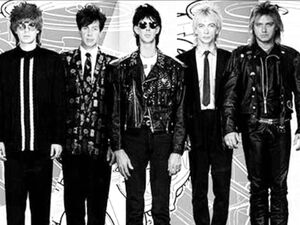 (
This page concerns the American rock band. For discussion of Peel's obsession with automobiles, see Cars).
The Cars were an American rock band that emerged from the new wave scene in the late 1970s. The band originated in Boston, Massachusetts, with lead singer, rhythm guitarist and songwriter Ric Ocasek, lead singer and bassist Benjamin Orr, lead guitarist Elliot Easton, keyboardist Greg Hawkes and drummer David Robinson. They were signed to Elektra Records by George Daly, then A&R head, in 1977.
The Cars were at the forefront in merging 1970s guitar-oriented rock with the new synth-oriented pop that was then becoming popular and which would flourish in the early 1980s. The Cars started fresh with their debut album The Cars which went on to go platinum in late 1978. The Cars' debut album was called a "genuine rock masterpiece" by AllMusic, and was propelled by the success of Just What I Needed which had helped get the band signed by Elektra.
The band broke up in 1988, and Ocasek had always discouraged talk of a reunion since then, telling one interviewer in 1997 "I'm saying never and you can count on that." Bassist Benjamin Orr died in 2000 from pancreatic cancer. In 2005, Easton and Hawkes joined with Todd Rundgren to form a spin-off band, The New Cars, which performed classic Cars and Rundgren songs alongside new material. The surviving original members reunited in 2010 to record a new album, titled Move Like This, which was released May 10, 2011, and a tour to start on the same day.
In April 2018, the Cars were inducted into the Rock and Roll Hall of Fame and reunited once more to perform at the induction ceremony. The reunion was their final performance with Ocasek, who died on September 15, 2019 of cardiovascular disease.
Links to Peel
John's relationship with the band was brief. Although he received their debut album when it was only available on import, he once played two tracks concurrently in order to euphemistically "attend to one or two small errands": on his return declared them "pretty boring" and lost interest thereafter. [1] The same cannot be said of Paul Gambaccini, who was enthusiastic about any US new wave-influenced material: when he sat in for JP, he played another two tracks from the album (both of them singles).
Festive Fifty Entries
Sessions
Other Shows Played
External Links
Community content is available under
CC-BY-SA
unless otherwise noted.