Cashbox (later known as Cash Box) Box was a music industry trade magazine that was published weekly from July 1942 to November 1996. It has since been revived as Cashbox Magazine, an online-only weekly that occasionally publishes special print issues. Cash Box was one of several magazines that published record charts in the United States. Its most prominent competitors were Billboard and Record World (known as Music Vendor prior to April 1964).
Links To Peel
Peel first appeared on the magazine in 1967, under the name John Ravencroft, when promoting the single of
Thorndike Pickledish Choir
's Ballad of Walter Wart, with
Johnny Darin
, music director of KMEN and Tony Richland, a record promotor in a photograph, where he and Johnny were both wearing sweatshirts promoting the record with the title of 'Make Love Not Wart'.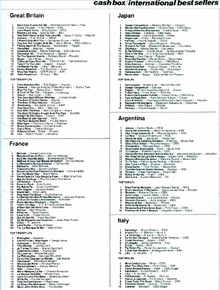 Peel wrote about the public's record buying tastes in the Listener, published on 22nd April 1976 (later republished in the Olivetti Chronicles) and referred to the Cashbox magazine in the article when looking at their music charts through out different countries:
"A quick glance through the international charts in Cashbox magazine is singularly unrevealing. In the Argentine, they are buying 'Para Piel de Manzana' by Joan Manuel Serrat, and 'Desearia Que Eastuvieras Aqui' by the Pink Floyd. Italians are untrousering their embattled lire for 'Mina Canta Lucio' and 'Wish You Were Here' by the self-name Pink Floyd. The wily Japanese, on the other hand, are keen on Masato Shimon, Hiromi Oota and others. Among the others, in passing, is Hiromi Goo. I'd love to hear Hiromi Goo, wouldn't you? Our Eurobrethren, the French, care considerably for Genesis, Bob Dylan and Serge Lama."
Further on in the article, he mentions that the 1976 record buying audience, considered as a mass is playing safe in their choice of records. Interestingly to point out, is that the article was written before the emergence of punk later on in the year.
External Links