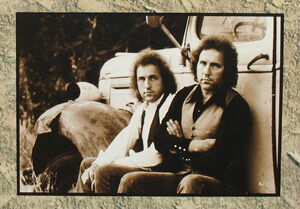 The Cate Brothers are the singer-songwriter-musician duo of Earl and Ernest (Ernie) Cate (born December 26, 1942), twin brothers from Fayetteville, Arkansas, America who in the mid-1960s became performers of country soul music at clubs and dances in Arkansas and elsewhere in the mid-South of the United States. Both brothers are singers, with Earl playing guitar and Ernie playing piano. They were recording artists during the mid- to late 1970s and again from the mid-1990s through the first decade of the 2000s.
Links To Peel
Peel discovered the brothers when he received a package of records consisting of the group's debut album along with
Joni Mitchell
's The Hissing Of Summer Lawns LP in 1975 at
Peel Acres
. In an article published in
Sounds
(published on 10 January 1976, later republished on
Olivetti Chronicles
, Corgi edition, page 286), he described the group and how much their music should be recommended:
"From the sleeve photograph, Mr and Mrs Kate's (sic) little boys look more like long-distance truck drivers and the kind of Californian hillbillies who usually bubble to the surface on Asylum. Their music I recommend quite earnestly and I am pleased to see that some of New York's discos have picked up on 'Union Man', from the album, and are playing it nightly to their widely rejoicing customers. 'Union Man' has a pair of the niftiest little instrumental breaks around town."
Shows Played
1976
1977
1979
1987
2000
2003
External Links
Community content is available under
CC-BY-SA
unless otherwise noted.