In the 1970s I was vaguely aware of the name John Peel from the radio listings at the back of the Scotsman. It was only when I got my first clock radio at the age of 15 that I was able to tune in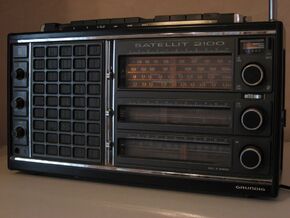 to the programme. Needless to say the sound quality from such a device did not really do justice to the show, and it was only when I upgraded to a Grundig Satellit shortwave radio with a 7W amp and 2-way speaker that I really came to appreciate the deep sounds of dub and reggae and the novelty of hearing crashing cymbals in the clarity of FM (or VHF as it was better known then). Most of Radio 1's output was in muddy MW/AM at the time so top marks to whoever successfully kicked Radio 2 off the frequency for those last two precious hours of the evening!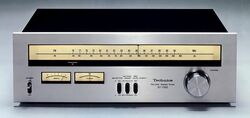 It wasn't until 1982 that I actually had a means of recording the shows and this was on a mono portable attached to the radio. In my student days I relied on snap judgements to hit the record button in time to catch a track, though when I was home at weekends and out of term time I had the luxury of being able to record higher quality sounds on my dad's separates system, a Technics ST-7300 Analogue tuner and a Dual C814 cassette deck.
In 1988 I started recording entire shows when I was working on night shifts, using a stereo hifi video recorder attached to my Denon tuner. The sound quality was so much better than I could achieve on any cassette deck at the time, and a 3-hour tape could record 6 hours of audio with no apparent loss of quality. This recording method was then used to create my mixtapes but with a greater facility to go back to the start of a track that I decided I liked half way through!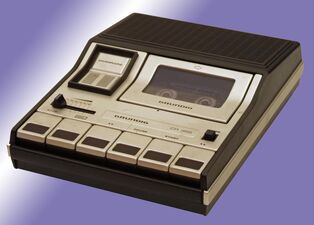 I have therefore amassed a large selection of tapes of tracks and sessions from around 1982 onwards. Each one of these is like a microcosm of a Peel show, with dub tracks segueing sharply into thrash into minimalist dance. I just wish that I had had unlimited funds and tapes to record and keep all the shows!
List of tapes
1982
1983
Peel June 1983 (06 June 1983, 08 June 1983, 15 June 1983) / Peel 1983 Bits And Pieces (?, 24 May 1983, ?) / Peel Early Sep 1983 (06 September 1983, 07 September 1983, 12 October 1983, 17 October 1983) / Mostly Peel Mid Sep 1983 (27 September 1983) / Peel Late Sep - Oct 1983 (28 September 1983, 17 October 1983, 27 October 1983) / Peel Early Nov 1983 (08 November 1983) / 14 November 1983 / Peel Late Nov 1983 (21 November 1983, 24 November 1983, 29 November 1983) / 01 December 1983 / Peel Early Dec 1983 (05 December 1983, 08 December 1983, 12 December 1983, 13 December 1983) / 15 December 1983 / 21 December 1983 / 27 December 1983
1984
Peel 1984 Bits And Pieces (?) / Peel Mid Jan 1984 (11 January 1984, 16 January 1984) / Peel Late Jan 1984 (19 January 1984, 23 January 1984, 26 January 1984) / Peel Early Feb 1984 (01 February 1984, 08 February 1984) / Peel Mid Feb 1984 (13 February 1984, 15 February 1984) / Peel Late Feb Early Mar 1984 (23 February 1984, 06 March 1984) / 29 February 1984 / Peel March 1984 / Peel Late April Early May 1984 (23 April 1984, 24 April 1984, 26 April 1984, 10 May 1984) / Peel April May again 1984 (18 April 1984, 16 May 1984) / Peel Mid May 1984 (23 May 1984) / 28 May 1984 / 04 June 1984 / Peel Early June 1984 (05 June 1984, 07 June 1984, 11 June 1984, 13 June 1984) / Peel Mid June 1984 (13 June 1984, 14 June 1984, 18 June 1984, 19 June 1984) / 13 August 1984 / Peel Aug-Sep 1984 (30 August 1984, 05 September 1984, 10 September 1984) / Peel Mid Sep 1984 (10 September 1984, 11 September 1984, 23 October 1984) / Peel Late Oct 1984 (29 October 1984, 31 October 1984) / Peel Late Sep Early Nov 1984 (18 September 1984, 25 September 1984, 26 September 1984, 27 September 1984, 06 November 1984, 12 November 1984) / Peel Late 1984 (31 May 1983, 04 September 1984, 12 November 1984, 13 November 1984) / 18 December 1984 / 25 December 1984
1985
Peel January 1985 (08 January 1985, 14 January 1985, 29 January 1985) / Peel Early 1985 (06 February 1985, ?, 27 February 1985, ?) / Peel February 1985 (06 February 1985, 13 February 1985, 18 February 1985, 19 February 1985, 20 February 1985, 04 March 1985) / 12 February 1985 / Peel March 1985 (04 March 1985, 06 March 1985) / Peel April 1985 (03 April 1985, 16 April 1985, 01 May 1985) / 28 May 1985 / Peel Summer 1985 (03 June 1985, 05 June 1985, 17 June 1985, 18 June 1985) / Peel Late 1985 (21 October 1985, 23 October 1985, 28 October 1985, 29 October 1985, 06 November 1985, 25 November 1985) / 18 December 1985 / 23 December 1985 / 25 December 1985
1986
Peel February 1986 (25 February 1986, 26 February 1986) / Peel March 1986 (26 February 1986, 03 March 1986, 04 March 1986, 05 March 1986) / Mostly Peel Spring 1986 (04 March 1986, 05 March 1986, 21 April 1986) / Peel July 1986 (18 August 1986, 14 July 1986, 15 July 1986) / 19 August 1986 / 22 December 1986 / Peel December 1986 (08 December 1986, 23 December 1986, 29 December 1986) / 30 December 1986
1987
1988
Peel January 1988 (12 January 1988, 13 January 1988, 18 January 1988, 19 January 1988, 26 January 1988 or 27 January 1988) / Peel Feb Mar 1988 (15 February 1988, 23 February 1988, 24 February 1988, 15 February 1988, ?, 08 March 1988, ?) / Peel Late 1988 (03 May 1988, 25 October 1988, 02 November 1988, 03 October 1988, 04 October 1988, 29 November 1988, 03 January 1989, 31 October 1988, 14 November 1988, ?, 28 November 1988) / 07 December 1988 / 20 December 1988 / 26 December 1988 / 27 December 1988
1989
Peel Early 1989 (16 January 1989, 17 January 1989, 18 January 1989, 25 January 1989, 01 February 1989, 14 February 1989) / Mostly Peel Spring 1989 (14 February 1989, 27 February 1989, 28 February 1989, 08 March 1989, 13 March 1989, 07 June 1989, 02 May 1989, 15 May 1989) / Peel Summer 1989 (03 July 1989, 12 July 1989, 17 July 1989, 29 June 1989 or 02 August 1989, 08 August 1989, ?, 09 August 1989, 16 August 1989, 24 August 1989, poss 19 September 1989, poss 20 September 1989, ?, 25 October 1989, ?, poss 06 December 1989) / Peel Festive Period 1989-1990 (20 December 1989, 26 December 1989, 27 December 1989, 28 December 1989)
1990
Peel Festive Period 1989-1990 (01 January 1990, ?) / Peel Snubbed 1990 (?, 05 April 1990) / Mostly Peel June 1990 (poss 05 April 1990, 15 May 1990, 16 May 1990, 04 June 1990, 18 June 1990, 19 June 1990, ?, 26 June 1990, 05 June 1990) / Peel Late Oct Early Nov 1990 (28 October 1990, 04 November 1990) / Peel Late November 1990 (18 November 1990, ?, 09 December 1990, ?) / Peel Festive Period 1990 Part 1 (15 December 1990, 16 December 1990, 22 December 1990, 23 December 1990) / Peel Festive Period 1990 Part 2 (29 December 1990, 30 December 1990)
1991
Mainly Peel January 1991 (?, 19 January 1991, 20 January 1991, 26 January 1991, 27 January 1991) / Mainly Peel Feb 1991 (?, 02 February 1991, 03 February 1991, 09 February 1991, 10 February 1991, 16 February 1991) / Mainly Peel March 1991 (10 March 1991, 16 March 1991, 17 March 1991, 23 March 1991, 31 March 1991) / Peel April 1991 (06 April 1991, 07 April 1991, 20 April 1991, 27 April 1991, 28 April 1991) / Peel May 1991 (04 May 1991, 05 May 1991, ?, 26 May 1991) / Peel Early Summer 1991 (?, 08 June 1991, 09 June 1991, 15 June 1991, 22 June 1991, 23 June 1991) / Peel Late Summer 1991 (23 June 1991, 29 June 1991, 30 June 1991, ?, 13 July 1991, 20 July 1991, 11 August 1991, ?, 17 August 1991, 18 August 1991, ?) / Peel Early Autumn 1991 (08 September 1991, 28 September 1991, 29 September 1991, 06 October 1991, 12 October 1991, 13 October 1991) / Peel Mid Autumn 1991 (13 October 1991, 12 October 1991, 20 October 1991, 27 October 1991, 19 October 1991, 02 November 1991, 03 November 1991) / Peel Late Autumn 1991 (09 November 1991, 10 November 1991, ?, 23 November 1991, 24 November 1991, ?)
1992
Peel Early Feb 1992 (01 February 1992, 02 February 1992, 08 February 1992, 15 February 1992) / Peel Late Feb 1992 (22 February 1992, 23 February 1992, 29 February 1992) / Peel Spring 1992 (07 March 1992, 08 March 1992, 13 March 1992, 14 March 1992, ?, ? (poss January), 01 May 1992) / Peel Mid 1992 (02 May 1992, ?, 29 May 1992, 12 June 1992, ?, 19 September 1992, 16 October 1992, 17 October 1992, ?) / Mainly Peel Late Autumn 1992 (?, 23 October 1992, ?, 31 October 1992, ?, 24 October 1992, ?, 14 November 1992) / Mainly Peel December 1992 (?, 28 November 1992, 05 December 1992, ?, 18 December 1992, 25 December 1992, 01 January 1993)
1993
Peel January 1993 (09 January 1993, 15 January 1993, 16 January 1993, 23 January 1993, 29 January 1993) / 22 January 1993 / Peel February 1993 (05 February 1993, 06 February 1993, 12 February 1993, 13 February 1993, 19 February 1993, 26 February 1993 / Peel March 1993 (05 March 1993, 06 March 1993, 12 March 1993, 13 March 1993, 19 March 1993, 26 March 1993, 27 March 1993) / Peel Late Spring 1993 (27 March 1993, 02 April 1993, 09 April 1993, 10 April 1993, 17 April 1993, 30 April 1993, 07 May 1993, 08 May 1993, 14 May 1993, 22 May 1993, 28 May 1993) / Peel Summer 1993 (14 May 1993, 15 May 1993, ?, 11 June 1993, ?, 17 July 1993, 13 August 1993, 20 August 1993, 27 August 1993, 03 September 1993) / Peel September 1993 (11 September 1993, 17 September 1993) / Peel October 1993 (02 October 1993, 08 October 1993, 09 October 1993, 16 October 1993, 16 October 1993, 22 October 1993, ?, 29 October 1993, 30 October 1993) / Peel December 1993 (30 October 1993, 05 November 1993, 12 November 1993, 13 November 1993, ?, 10 December 1993, 11 December 1993, 25 December 1993)
1994
Peel Early 1994 (07 January 1994, 08 January 1994, 21 January 1994, ?, 04 February 1994, 05 February 1994, 11 February 1994) / Peel March 1994 (04 March 1994, 05 March 1994, 11 March 1994, 12 March 1994) / Peel April 1994 (08 April 1994, 23 April 1994, 29 April 1994, 30 April 1994) / Peel July 1994 (02 July 1994, ?, 08 July 1994, 09 July 1994, 15 July 1994, 16 July 1994, 22 July 1994, 30 July 1994) / Peel August 1994 (05 August 1994, 06 August 1994) / Peel September 1994 (03 September 1994, 26 August 1994, 16 September 1994, 23 September 1994, 30 September 1994) / Peel October 1994 (07 October 1994, 08 October 1994, 15 October 1994, 21 October 1994, 22 October 1994, 28 October 1994, 29 October 1994) / Peel November 1994 (04 November 1994, 11 November 1994, 12 November 1994, 25 November 1994, 26 November 1994) / Peel December 1994 (09 December 1994, 10 December 1994, 16 December 1994, 17 December 1994, 23 December 1994, 30 December 1994)
1995
Peel Early 1995 (20 January 1995, 21 January 1995, 03 February 1995, 04 February 1995, 24 February 1995, 25 February 1995) / Peel Spring 1995 (03 March 1995, 10 March 1995, 17 March 1995, 18 March 1995, 14 April 1995, 15 April 1995, 21 April 1995, 29 April 1995, 19 May 1995) / Mainly Peel Summer 1995 (22 July 1995, 28 July 1995, 28 July 1995, 04 August 1995, 12 August 1995, 18 August 1995, 19 August 1995) / Peel Late 1995 (08 September 1995, 24 November 1995, 15 December 1995, 16 December 1995, 22 December 1995, 29 December 1995, 30 December 1995) / 27 October 1995
1996
1997
1998
2000
2002
Note - to see complete listing below you need to click on "P" to go to page 2, or find the very faint "Next" button
Trending pages
All items (372)