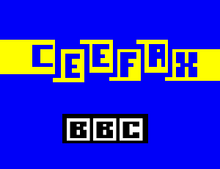 Ceefax was the world's first teletext information service and a forerunner to the current BBC Red Button service. Started by the BBC in 1974, it ended at 23:32:19 BST on 23 October 2012, in line with the digital switchover being completed in the UK. A rival service called Oracle was used for ITV and Channel 4 from 1978 until the end of 1992. Teletext is a means of sending pages of text and simple geometric shapes from mosaic blocks to a VBI decoder equipped television screen by use of a number of reserved vertical blanking interval lines that together form the dark band dividing pictures horizontally on the television screen. It offers a range of text-based information, typically including news, weather and TV schedules. Paged subtitle (or closed captioning) information is also transmitted within the television signal.
Links to Peel
Peel mentioned on his 14 April 1991 show with Andy Kershaw that Ceefax when publishing his show never wrote who were the artists in his programmes. However, this soon changed in 1992/1993, when Ceefax decided to publish details of tracklistings of Peel's and Kershaw's shows a day after their programmes on page 657.
Many of Peel's tracklistings from Ceefax was recorded by Lorcan, who published the details as part of the Lorcan's Tracklistings Archive between 1993 and 2001.
Mentioned On Shows
1991
14 April 1991: Andy and John discussing how their shows are billed on Ceefax
24 November 1991: Peel at start of show: "Thank you very much, Andy. One thing that you won't get on Ceefax is the information that my mother was seven months pregnant with me when that last record was recorded."
1994
18 November 1994: Peel advises listeners that show running orders are available on Ceefax, but he can't check them because he doesn't have Ceefax at home.
1995
13 May 1995: John urges his listeners to use Ceefax to find the names of any tracks played: "That'll save you writing to me in eight years' time saying, 'What was that record you played after the long reggae record with the word Jah in it?,' which is what normally happens."
1996
29 December 1996: John sings the praises of Ceefax (page 657) for track listings
1997
27 February 1997: Peel mentions the tracklisting of the show will probably be available tomorrow on BBC1 Ceefax page 657.
07 May 1997: Peel mentions tracklistings of the show can be found on Ceefax page 657.
External Links