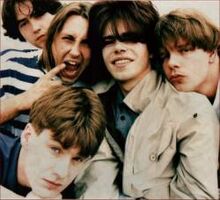 The Charlatans (known in the United States as The Charlatans UK) are an English indie rock band. The band's line-up currently comprises lead vocalist Tim Burgess, guitarist Mark Collins, bassist Martin Blunt and keyboardist Tony Rogers. Former members of the band include vocalist Baz Ketley (1989); guitarist Jon Day (Jonathan Baker) (1989–1991); keyboardist Rob Collins (1989–1996), who died in a car accident during recording of their fifth album; and drummer Jon Brookes (1989-2013), who died after being diagnosed with a brain tumour in 2010.
Links To Peel
Peel got hold of The Charlatans promo single in 1989 through Alison Martin (who is also mentioned in Margrave Of The Marshes as a listener of his show who once asked Peel for advice whether she should marry her Manchester United boyfriend supporter, which Peel adamantly said no: however she ignored the advice and later married him). She was working in a press promotion company in Manchester and originally received copies of the single through her Manchester Evening News music journalist friend Sarah Champion. [1]
In the biography, The Charlatans We Are Rock book, Alison Martin mentioned how she was surprised Peel liked the band's material: [2]
"We were surprised John liked the stuff. He didn't seem to like most of the Manchester stuff. I guess it was a bit too mainstream for the sort of thing that he played on his show."
After the Madchester scene, which the Charlatans were part of, faded away, Peel would occasionally play the band's material, when the group later adopted the Britpop sound, which he occasionally liked, although wasn't it's biggest fan. In 2002, Peel played a mashup track between The Charlatans and the Sugababes called Weirdo Overload on his show.
Festive Fifty Entries
Sessions
1. Recorded: 1990-03-20. Broadcast: 09 April 1990. Repeated: 31 May 1990
Then / Always In Mind / You Can Talk To Me / Polar Bear
2. Recorded: 1991-01-22. Broadcast: 10 February 1991. Repeated: Mainly Peel Feb 1991, 20 April 1991, HO John Peel 31 1991, Peel April 1991
Can't Be Bothered / Between 10th & 11th / Opportunity
Other Shows Played
1990
1991
1994
1997
09 April 1997: 'With No Shoes (CD – Tellin' Stories)' Beggars Banquet (JP: I think it must be the influence of Mark and Lark you know. I'm starting to get into pop music again.')
05 May 1997: With No Shoes (LP - Tellin' Stories) Beggars Banquet
2002
External Links
Community content is available under
CC-BY-SA
unless otherwise noted.