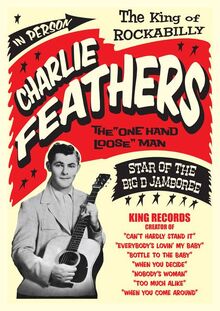 Charles Arthur 'Charlie' Feathers (June 12, 1932 – August 29, 1998) was an American country music and rockabilly musician. Born in Holly Springs, Mississippi, he recorded a string of singles like 'Peepin' Eyes,' 'Defrost Your Heart,' 'Tongue-Tied Jill,' and 'Bottle to the Baby' on Sun Records, Meteor and King Records in the 1950s. His theatrical, hiccup-styled, energetic, rockabilly vocal style inspired a later generation of rock vocalists, including Lux Interior of The Cramps.
He started out as a session musician at Sun Studios, playing any side instrument he could in the hopes of someday making his own music there. He eventually played on a small label started by Sam Phillips called Flip records that got him enough attention to record a couple of singles for Sun Records and Holiday Inn Records. He then moved on to Meteor Records and then King Records where he recorded his best-known work.
Feathers' song 'That Certain Female' was featured on the soundtrack to Quentin Tarantino's 2003 film Kill Bill: Volume 1. His 'Can't Hardly Stand It' was featured on the follow-up Kill Bill: Volume 2 soundtrack, as well as the highly successful video game Grand Theft Auto V. A brief bit of 'Can't Hardly Stand It' was also featured in the 2013 film Only Lovers Left Alive.
(Read more at Wikipedia.)
Links to Peel
Although available show tracklistings suggest Charlie Feathers was played relatively infrequently by Peel, five different singles by the rockabilly legend were found in John Peel's Record Box of treasured 45s. This made Feathers one of only seven artists with multiple releases in the collection (the others were The White Stripes (10), Eddie & Ernie (3), Harry Nilsson (3), G.L. Crockett (2), Medicine Head (2) and The Upsetters (2)). [1]
In the related TV documentary, Peel's son Tom Ravenscroft suggested that the White Stripes' high total may have reflected the band's position as a current favourite and a year later the situation could have been completely different. Similarly, the unexpected presence of so many Charlie Feathers singles might reflect a sudden burst of enthusiasm or a recent multi-disc discovery of rarieties on original US labels. The DJ was also a continuing fan of the early rock and roll of his youth.
In 1977, the veteran rocker had recorded a joint Peel session with other rockabilly stars during a UK visit to play a "Sun Sound Show" for two nights at London's Rainbow Theatre. [1] A live album recorded at the gigs was released the following year.[2]
Festive Fifty Entries
Sessions
One session only, with the Roger James Group. Lead vocals on other tracks by Buddy Knox, Warren Smith, Jack Scott. No known commercial release.
1. First broadcast 01 July 1977. Recorded 1977-05-03.
Too Much Alike / Bottle To The Baby
John Peel's Record Box
Nobody's Darling / Deep Elm Blues (Holiday Inn Records) 1962
Nobody's Woman / When You Decide (King Records) 1957 (two copies)
Wild Wild Party / Today And Tomorrow (Memphis Recordings) 1961
Tongue-Tied Jill / Get With It (Meteor Records) 1956
Too Much Alike / When You Come Around (King Records) 1957
Other Shows Played
(The following list was compiled only from the database of this site and Lorcan's Tracklistings Archive. Please add more information if known.)
1984
1987
1994
1998
2004
See Also
References
↑ Both Jack White of the White Stripes and Lee Perry of the Upsetters had further entries in the collection in other guises. The unexpectedly high Nilsson total may be a result of a three-track EP being entered as three separate singles on the original list (see John Peel's Record Box).
External Links